The Clinton Machine takes other people's money, including millions from oppressive Islamic regimes that sentence homosexuals to death and don't allow women to vote, drive a car, or be out in public alone.
In 2014, the Clinton Foundation took in an astonishing $178 million dollars, according to IRS tax records.
$178 MILLION.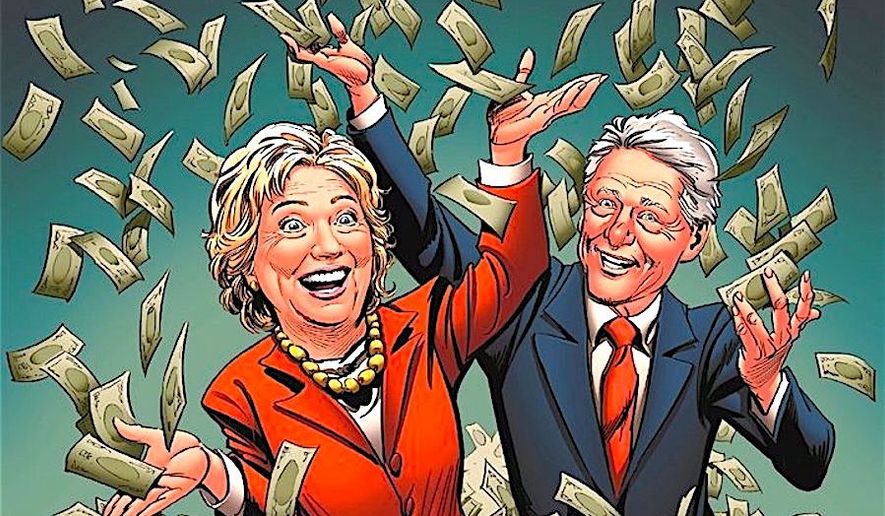 Estimates indicate the foundation is currently sitting on nearly $350 million dollars in total assets – assets accumulated under the guise of the foundation being a "charitable" organization.
And of that $178 million accumulated in 2014, less than 5.2 million was then given out by the Clinton Foundation in charitable donations not directly linked to the foundation. In fact, the foundation spent more on its own travel expenses (likely LOTS of private jet miles, first-class hotels, five-star restaurants, etc) than it did on actual charity. $8 million was spent on travel – far more than on charity.
In fact, the three greatest expenses the Clinton Foundation paid out, were to offshoot organizations directly linked to the Clinton Foundation:
"…The Clinton Foundation's three largest charitable "program service accomplishments," according to its tax reports, are the Clinton Global Initiative ($23.2 million), the Clinton Presidential Library ($12.3 million), and the Clinton Climate Initiative ($8.3 million)."
And all of those groups, among others linked to the foundation, are often staffed by high-paid supporters of the Clintons. When Clinton supporters boast of the millions the foundation gives to charity, what they are not saying is that the vast majority of those millions are actually being given to other charities controlled by the Clintons! This allows the Clinton Foundation to remain in compliance with IRS charity organization laws, while keeping all those millions "in-house" and directed by the Clintons.
The reality is that the Clinton Foundation has never been a charitable endeavor, but rather, a commercial one that has made Bill and Hillary Clinton very-very wealthy. The single most important charity the Clintons are involved with – are the Clintons.
——————–
Related article: HERE
——————–