This should make anyone sit up and take notice. Rarely in modern times has a member of Congress insinuated such shocking racism.
Congresswoman Ilhan Omar, who has a long and troubling record of anti-Semitism, along with Congresswoman Rashida Tlaib, who shares similar anti-Israel sentiments with Ilhan and who is co-sponsoring the bill, likened Israel to Nazi Germany.
It appears when it comes to today's Democrat Party, "Never Again" is happening right now…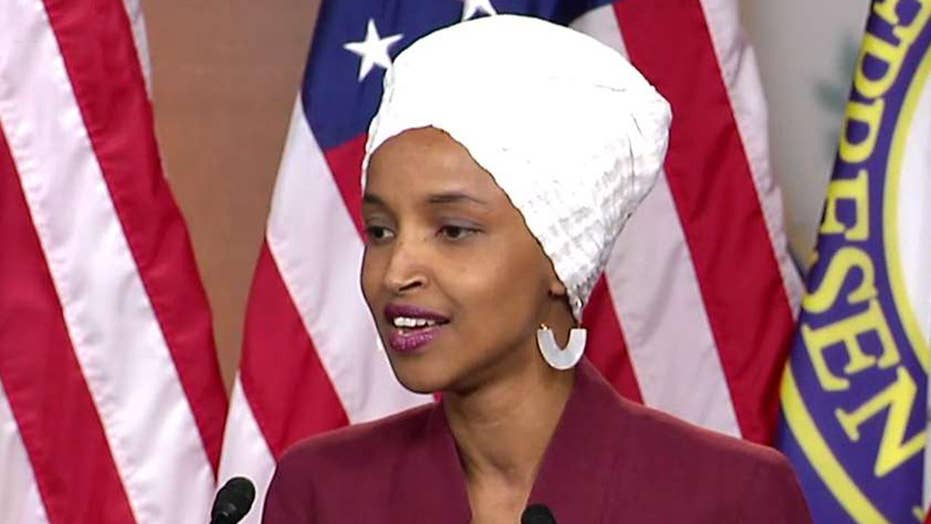 Via Fox News:
Omar introduces resolution defending boycott of Israel, likens it to boycotts of Nazi Germany, Soviet Union
U.S. Rep. Ilhan Omar proposed a resolution this week supporting the right to boycott Israel, likening the boycott of the Jewish state to boycotts of Nazi Germany and the Soviet Union.
…The resolution attracted some Republican detractors, with Rep. Lee Zeldin slamming Omar for introducing it, saying she brought "her hateful twist" by propping up the BDS movement.
"Israel is our best ally in the Mid East; a beacon of hope, freedom & liberty, surrounded by existential threats," Zeldin wrote in a tweet. "Shame on Rep Omar for bringing her hateful twist on that reality to House Foreign today, propping up the BDS movement & blaming Israel for all of its challenges."
The resolution affirms the right to boycott as an expression of free speech and cites examples of boycott movements against Nazi Germany, the Soviet Union, and apartheid South Africa.
Omar's measure will be co-sponsored by U.S. Rep. Rashida Tlaib, D-Mich., the first female Palestinian-American lawmaker in Congress who openly supports a one-state solution in the Israeli-Palestine conflict, and U.S. Rep. John Lewis, D-Ga.
But the resolution will likely lead to yet another clash with her fellow Democrats who are mulling a resolution condemning the boycott movement.
—————–
It appears the recent dust-up between some of the radicals in the Democrat Party and President Trump, who declared that those who hate American are welcome to live somewhere else, has emboldened the likes of Ilhan Omar who now seem to think the media attention they received was in fact approval of their highly controversial, anti-American world views.
The American voter might well hold a different opinion of Omar and others in the Democrat Party who continue to talk down America and its allies while also talking up its enemies.
---
---
"QUITE POSSIBLY THE SINGLE BEST BOOK I'VE READ THAT CAPTURES THE ANGER AND FRUSTRATION OF THE FORGOTTEN AMERICAN WHO FEELS PUSHED DOWN AND NEGLECTED BY A POLITICALLY-CORRECT WORLD GONE MAD. IT'S A STORY THAT IS AS SHOCKING AS IT IS BEAUTIFUL. IT STARTS OUT ONE WAY AND ENDS UP IN A PLACE I DIDN'T SEE COMING THAT HAD ME NODDING MY HEAD AND SAYING, "RIGHT ON!"
I STAND WITH MR. DIAZ BECAUSE I AM MR. DIAZ. WE ALL ARE. THESE ARE THE KINDS OF STORIES AMERICA-LOVING READERS MUST SUPPORT TO HELP FIGHT BACK AGAINST ALL THE CRAZINESS THAT'S TEARING OUR COUNTRY APART.
MR. DIAZ'S REVENGE IS TRULY A MUST-READ." -John K. Simms
E-BOOK: HERE
PAPERBACK: HERE