Is it any wonder the electorate is so on edge, upset, and wanting to see the entire political system turned upside down?
Republican leaders in Congress conceded almost every laundry list of Democrat Party demands within the context of the just passed  1.1 TRILLION dollar Omnibus spending bill that included a last-minute insertion to TRIPLE the number of foreign workers coming into the United States via the H-2B visa program. At a time when the employment participation rate among Americans is at near all time lows, Congress just made finding a job that much tougher.
This is not legislation – this is self-mutilation.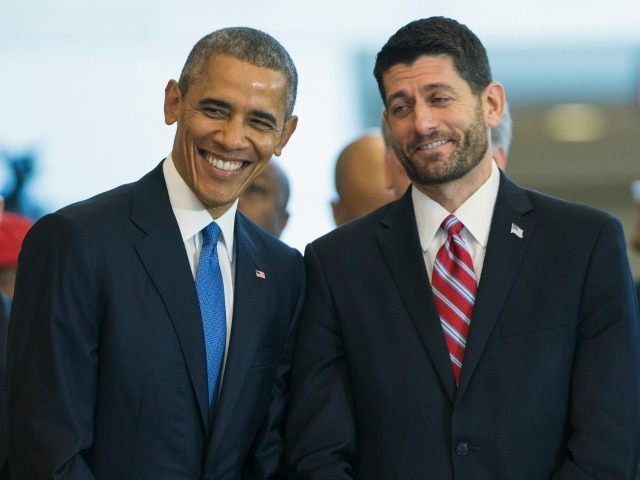 Nearly every facet of Barack Obama's disastrous policy demands were fully funded by the Omnibus bill, including the Obama amnesty program for illegal immigrants, sanctuary cities, the Syrian refugee program, massive spending increases, and NOT ONE CENT toward construction of a secure southern border fence which has been promised to the American people for years.
NONE OF THIS SPENDING, NONE OF THESE OBAMA "PROGRAMS" DO ANYTHING THAT FAVORS MIDDLE CLASS AMERICAN CITIZENS. JUST THE OPPOSITE – THEY SEEK TO DESTROY THE MIDDLE CLASS THAT ONCE MADE AMERICA GREAT.
In fact, Paul Ryan and his fellow Republican leaders have effectively plunged a knife into the backs of the Middle Class and did it with broad smiles and congratulatory pats on the backs. Adding insult to injury, check out this description of how the H-2B visa bill was passed via a report from The Hill:
"Congressional leaders quietly slipped the provision into the 2,009-page funding bill, with rank-and-file lawmakers only discovering it Wednesday morning. The move immediately sparked protests from across the political spectrum."
And then check out this chilling review of what Congress just accomplished via Breitbart News:
"By locking in the President's refugee, immigration, and spending priorities, Ryan's bill is designed to keep these fights out of Congress by getting them off the table for good. Delivering Obama these wins–and pushing these issues beyond the purview of Congress–will suppress public attention to the issues and, in so doing, will boost the candidacy of the Republican establishment's preferred presidential contenders, who favor President Obama's immigration agenda."
Is it any wonder when someone like Donald Trump declares "America doesn't win anymore" it resonates so powerfully with so many? Or when Senator Ted Cruz cries out against Republican leaders who betray their supposed conservative values at every turn?
Voters gave Republicans resounding victories in 2010 and 2014 that allowed the Republican Party to control both the House and the Senate in order to effectively fight back against the rampant socialistic, anti-American policies of the Obama White House.
That hasn't happened. Republicans are not fighting Barack Obama – THEY HAVE JOINED WITH HIM.
WE ARE ALL AT WAR.
————————–
FREE OFFER!
"ARE YOU PREPARED TO PROTECT FAMILY & FRIEND FROM A WORLD GONE MAD?"
GET THE FIRST TWO EPISODES OF THE EPIC RACE WARS SERIES FOR FREE  HERE