Media mogul and creator of the Fox Broadcasting Company, Barry Diller made it clear today he has no intention of seeing Donald Trump become the next President of the United States. The fellow billionaire went so far as to suggest to CNBC that should Donald Trump win he would, "move out of the country, or join the resistance."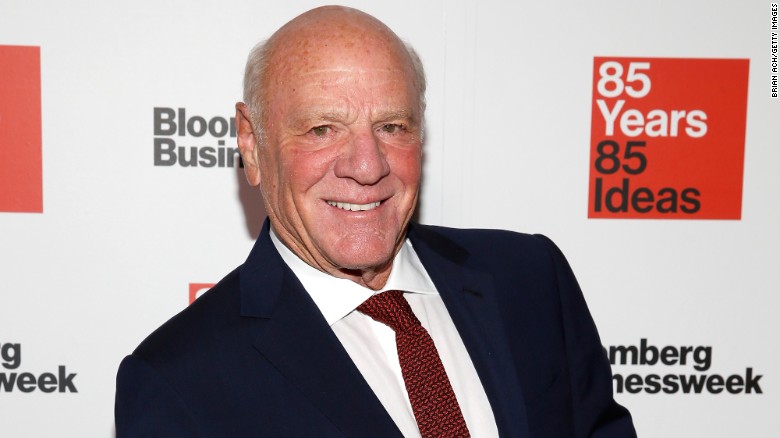 Above: Media mogul Barry Diller
________________
Interestingly, Diller's comments come just forty-eight hours after a D.C. Whispers report included this information regarding an effort by powerful Mainstream political and media figures to successfully terminate the Trump campaign:
"…It was also stated that news media executives at each the major network and cable news entities are allegedly aware, and complicit, in the operation, with Fox News leading the way."
It should also be noted that Mr. Diller penned the following column in 2012 just prior to that year's presidential election:
"Why I'm Voting for President Obama"
In 2012, Chelsea Clinton was hired by Mr. Diller to work at his international media conglomerate, IAC. Below is an August, 2015 photo of Chelsea Clinton and her husband enjoying a bit of Sardinia vacation time aboard one of Mr. Diller's yachts:
Diller's media influence is among the most significant in the industry with ties and influence to other formidable entities like Paramount Pictures, The Walt Disney Company, DreamWorks, as well as being largely responsible for creating the career of Julius Genachowski, the long-serving Chairman of the Obama FCC. Prior to his term at the FCC, Genachowski served as Barack Obama's technology adviser, a post which helped to create the formidable Obama Internet and Social Media apparatus. Genachowski most recently took a position at the highly secretive Carlyle Group, described as follows by a June, 2015 Veterans Today report:
"The Carlyle Group, a secretive investment group comprised of many powerful political and financial elites, has a longstanding relationship with the Bush family. As The Economist noted in 2003: "The Carlyle Group [is] a private equity firm that manages billions of dollars, including, at the time, some Bin Laden family wealth. It also employs Messrs [former President George H.W.] Bush and [former Bush administration Secretary of State James] Baker…it should come as no surprise that Hillary Clinton is raising serious money from many of these same interests."
In June, both Hillary Clinton and Jeb Bush were the overwhelming favorites to win their respective party's nomination – two sides of the very same coin, a political game in which the primary benefactors owned both teams.
Donald Trump's ascent to the top of the GOP polls has disrupted that manufactured outcome.
When a man like Barry Diller so openly declares his desire to see Donald Trump defeated, what he's  doing is calling in every favor, every facet of his media empire, to made that defeat happen
The question then is to YOU, the voter, if you intend to allow the likes of Barry Diller and the Carlyle Group to succeed in that endeavor.
Regardless of whether one supports Donald Trump's campaign or not, it has become clear that no other candidate is now the target of so many among the global elite as he is. If that fact is not worthy of your support, it at the very least warrants your respect.
DEVELOPING…