Talk of a possible indictment against former Obama Secretary of State and current Democrat presidential frontrunner, Hillary Clinton have swirled for months.
Whispers now indicate that over the last forty-eight hours that talk has turned very-very serious and it has the Clinton Machine scrambling to prevent what would be a historic political collapse not seen since the days of Nixon.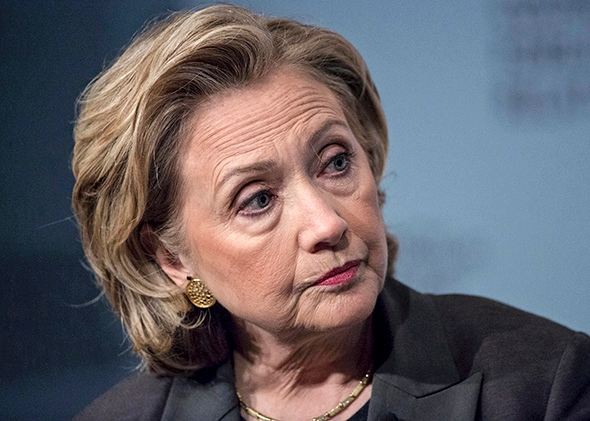 (She's exhausted by it. She's out of her mind with worry…")
——————–
The numbers are already daunting – 1200 classified documents were found with Mrs. Clinton's unsecured personal emails, a direct violation of federal law.
That number doesn't even include the many more emails the FBI has been pulling from Clinton's hard drives and it is the information upon those "hidden" emails that has the entirety of the Clinton campaign, "bracing for impact."
FBI Director James Comey, already dealing with an often testy working relationship with the Obama administration, has been dutifully silent regarding the still ongoing investigation.
Rumors are now increasing over a now-pending recommendation from the FBI that charges be filed against Hillary Clinton.
A trusted D.C. Whispers source indicated the following regarding the Hillary Clinton classified information scandal:
"If this were anyone else but Hillary Clinton, those charges would already have been filed and the prosecution would be moving forward. Mrs. Clinton knows this. She's exhausted by it. She's out of her mind with worry over it. Every possible favor the Clintons have at their disposal is being used to keep this thing under wraps. Don't forget, Attorney General Loretta Lynch owes her career to Bill Clinton. The Clintons are aware of every detail of her past, including those areas not known by the public. If Mrs. Lynch neglects to pursue a case against Hillary Clinton following a recommendation by the FBI, you'll know that card was played."
Further speculation has suggested that if Attorney General Lynch refuses to file formal charges against Hillary Clinton, it will cause ripples within the FBI that could then lead to all out revolt.  Former U.S. attorney, Joe DiGenova recently said this regarding the matter:
"I believe that the evidence that the FBI is compiling will be so compelling that, unless [Lynch] agrees to the charges, there will be a massive revolt inside the FBI, which she will not be able to survive as an attorney general. It will be like Watergate. It will be unbelievable…"
DEVELOPING…
———————–
A RIVETING, EPIC POST APOCALYPTIC SERIES WITH ENGAGING CHARACTERS AND A STORY FRIGHTENINGLY FAMILIAR TO THE WORLD WE NOW LIVE IN."
GET THE FIRST FIVE SEASONS FOR ONE LOW PRICE AND SAVE 50%!
AVAILABLE:  HERE
AVAILABLE:  HERE