Congressman Paul Ryan has suddenly become very protective of a job he once claimed (often) he didn't want – that of House Speaker. And it was with that great caution he oversaw what is (hopefully) just a first step toward repealing and (replacing?) the failed Obamacare legislation. Version one is not all bad, but remains a highly imperfect attempt that smells of pretending to do something without doing much at all. President Trump is congratulating members of Congress for the plan while also reminding them it is to be just the beginning even as Speaker Ryan appears to be making it increasingly clear this might be all the steps he's willing to take.
The House healthcare reform plan does shift some of the power away from D.C. and back to the states, but not nearly enough. There is an outline for increasing choice, but it still lacks a market-driven incentive that would quickly lower costs. Mr. Trump demanded there be across-state-line competition for healthcare plans, thus growing the market, increasing choice, and likely lowering costs, as well as tort reform.
The Paul Ryan plan is absent those components. President Trump is already promising those changes are on their way – likely to be taken up by Congress later this year. A positive of the Ryan plan is its reduction/elimination of the taxes associated with Obamacare. Obamacare recipients are granted a two-year bridge between their current coverage, and the expansion of choices in coverage to soon arrive.
"Coverage" is an underlying theme. Not "care" but coverage. That was perhaps the single greatest fault of Obamacare. It touted health coverage while doing little to improve care. (Similar to the V.A. which "covers" veterans, but too often doesn't actually "care" for them.)
The Ryan plan promises to lower the costs of prescription drugs, but again, the market emphasis to do so is too little while so many of the Obamacare-related government controls that always cause costs to skyrocket, remain in place.
Pre-existing conditions protection remains in place, as do coverage for children until age 26. These are good things, though, look for the Mainstream Media to largely ignore them as it goes into full-on attack mode over the proposed legislation.
And that is what Republicans like Paul Ryan need to understand and find the spine to ignore. Democrats and the media will attack them for whatever they do. Ryan needs to stop worrying about doing what is popular and start doing what is right. THAT is what got Donald Trump elected. He convinced enough voters that he was a man of his word who would set out to do what he promised – media detractors be damned.
As much as it pains the Republican Establishment to admit, the party needs MORE Donald Trump and LESS Paul Ryan. The healthcare reform bill released this week is, as President Trump indicated, a reasonable start.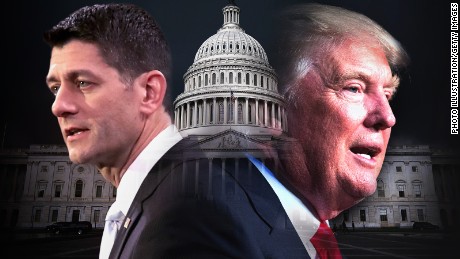 Voters need to remind Republicans it is nowhere close to being the finished product.
———————-