Around the same time that Barack Obama became President of the United States, Turkey had a significant shift in its own political dynamic as well in the form of Recep Tayyip Erdogan, among the world's most significant and influential Muslim leaders and a longtime member of the hard-line Muslim Brotherhood.
Mr. Erdogan is currently Turkey's President and since his rise to near absolute power in that country, a far closer ally of the Obama administration specifically than he is of the United States.
Today we learn his government shot down a Russian fighter plane carrying out bombing missions against ISIS militants while flying over the Syrian-Turkish border.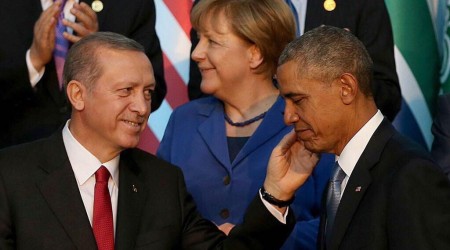 ABOVE: The relationship between the Turkish President and Barack Obama has been described as "unusually close." Erdogan was the first leader to call Mr. Obama upon his re-election victory in 2012. Obama in turn has continued to expand the influence of the Muslim Brotherhood, of which Erdogan is a leader, within his own administration. Turkey has long desired to remove Syria's Bashar al-Assad, a non-Muslim Brotherhood member, from power and it has been suggested Turkey has been using ISIS to try and accomplish that goal. If true, it might explain, at least in part, why the Obama administration has been so reluctant to engage ISIS militarily.
———————
Make no mistake, when Recep Erdogan speaks or acts, he does so as much for the Muslim Brotherhood as he does for Turkey itself. It is the same Muslim Brotherhood group that has been classified a terrorist organization by the British government.
The Obama administration refuses to do so. Instead, it continues to provide Muslim Brotherhood members unfettered access into various levels of the U.S. government:
Both Barack Obama and Recep Erdogan held a lengthy bilateral meeting earlier this month during the G-20 Summit which was hosted by Turkey:
It was at that same G20 gathering that had Vladimir Putin brushing aside Barack Obama:
Putin Laughs Off Obama At G20 Summit: "He's A Child…He's A Child."
Senior White House adviser, Valerie Jarrett continues to maintain very close relations with CAIR, the Muslim Brotherhood group based within the United States. CAIR most recently awarded the Texas student dubbed "clock boy" as its 2015 "Muslim of the year." The teenage student had built a device which looked like a suitcase bomb and then brought it to school where understandable panic ensued. Within 24-hours the boy received congratulations from Barack Obama himself who declared the device to be a "cool clock" and then invited the boy and his Muslim family to the White House for presidential recognition.
For building a fake bomb clock.
What has just transpired over the skies of Turkey and Syria is no hoax though – it is a show of strength from the world's most powerful Muslim Brotherhood nation against a world leader who has long made clear his disdain of Muslim militants.
Within hours of the Russian fighter jet being shot down by Turkish anti-aircraft fire, the first government to quickly side with Turkey was the Obama administration.
It should also be noted that Turkey has now militarily engaged both the Kurds and Russia – the two forces that have most aggressively taken up the fight to defeating ISIS. The Obama administration continues to refuse to adequately arm Kurdish fighters, and openly complains of the increase in Russian influence in that same region.
It's as if Recep Tayyip Erdogan enjoys leadership of two nations, his own Turkey, and that of the United States via what appears to be considerable influence directed through the vessel known as Barack Hussein Obama.
DEVELOPING…
—————————
HE'S A TERRORIST'S WORST NIGHTMARE…
Mac Walker's Rules of Engagement:
SHOOT FIRST. KICK BODY. REPEAT.
Former Navy SEAL sniper and government gun for hire Mac Walker finds himself in an uneasy alliance with the beautiful and mysterious Vatican operative Stasia Wellington as they fight to save the plane's passenger and defeat the terrorists and their plot to kill tens of thousands. Mac Walker's 40,000 Feet is the first volume in the highly popular Mac Walker military thrillers series that has earned an enthusiastic following of fans as they cheer the never give in and never give up nature that embodies the Mac Walker character.  GET IT:  HERE
"Mac Walker's 40,000 Feet is one hell of a terrorist military thrillers ride! Takes off like a jet and never lets up. Well done…"