It was a page taken from the politically successful Ronald Reagan playbook—remind Americans of how dangerous and damaging socialism can be. President Trump did just that during last week's State of the Union and within hours 'what is socialism' became a trending term on nearly every major Internet search engine as increasingly defensive Dems declared they were not socialist. The fact they've embraced socialism so strongly in the form of popularity for Bernie Sanders (a self-proclaimed socialist) and more recently Congresswoman Alexandria Ocasio-Cortez (also a socialist) is making that denial much more difficult. It seems most Americans still view socialism as a dirty word which makes the modern Democrat Party the dirtiest party of all.
Via The Hill:
Trump's warning of creeping socialism in the United States, deftly mentioned after a section of the speech on the unfolding political crisis in Venezuela, created an immediate public split among Democrats that was caught on live television.
Senate Democratic Leader Charles Schumer (N.Y.) and Sens. Debbie Stabenow (Mich.), Joe Manchin (W.Va.), Jon Tester (Mont.) and Sherrod Brown (Ohio) were among the lawmakers who stood with Republicans to applaud Trump when he pledged that the United States would never slide into socialism.
But other Democrats weren't so happy about Trump's choice of words — which was clearly meant to put them on the spot.
Sen. Bernie Sanders (I-Vt.), who labels himself as a democratic socialist, stayed rooted in his seat, as did Sen. Cory Booker (D-N.J.).
Freshman Rep. Alexandria Ocasio-Cortez (D-N.Y.), another leading democratic socialist, smiled in response to Trump's remark but stayed seated.
She later argued that Trump's attack is a sign her growing success.
"I think it was great. I think he's scared," she told HuffPost. "He sees that everything is closing in on him. And he knows he's losing the battle of public opinion when it comes to the actual substantive proposals that we're advancing to the public."
The different reactions reflect a battle within the Democratic Party that Trump and Republicans are eager to exploit.
Republicans have seized on Trump's arguments to attack Democrats.
"Socialism has failed everywhere it's been tried and we're not going to try it in this country," Senate Majority Leader Mitch McConnell (R-Ky.) said on the Senate floor this week.
Sen. Doug Jones (D), who faces a tough reelection in Alabama next year, also stood up to applaud Trump's rejection of socialism.
"I think it's true. It's a true statement, it's not going to happen. It's that simple, nobody wants it to happen," he said of Trump's pledge that the nation will never become socialist.
Jones dismissed Ocasio-Cortez's proposal to tax the nation's very highest income earners at 70 percent of their top-bracket income.
"There's a lot of talk about things like that. I think we need to look at practical issues when it comes to tax and things like that and I'm not sure how practical that is," he said.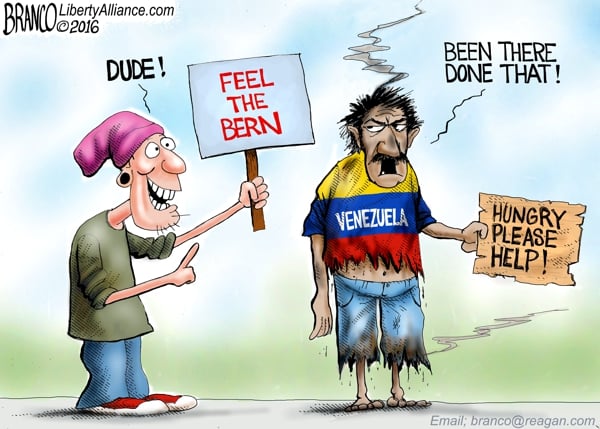 ---