Those who initially rolled their eyes at the possibility Attorney General William Barr would actually launch an investigation into the origins and roll-out of the Spygate scandal perpetrated against President Trump aren't doing so any longer as more and more details emerge of a growing investigation by AG Barr into that very thing—including working closely with the CIA to find the dirt that some within other agencies like the FBI and DOJ, with links to the Obama administration, may have attempted to hide.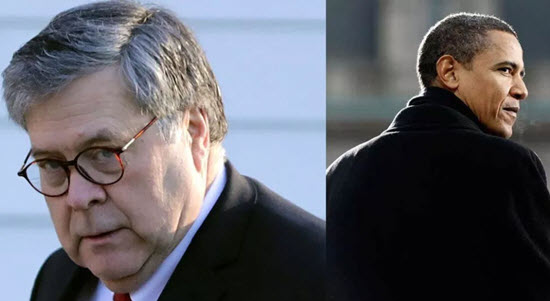 Attorney General William Barr is reportedly working closely with the directors of the CIA, FBI and Office of the Director of National Intelligence to review the origins of the Trump-Russia probe, as well as surveillance efforts against the Trump campaign.
According to CNN, Barr is working with CIA Director Gina Haspel, FBI Director Christopher Wray, and ODNI Director Dan Coats on the interagency review.
On Monday, it was reported (by DC Whispers) that Barr appointed John Durham, the U.S. attorney for Connecticut, to investigate the matter.
The probe is running parallel to a Justice Department inspector general's investigation into the FBI's handling of surveillance warrants against Trump campaign adviser Carter Page. Michael Horowitz, the inspector general, is also reportedly investigating the FBI's use of confidential informants, including dossier author Christopher Steele and former Cambridge professor Stefan Halper.
The Justice Department did not respond to a request for comment.
——————————
"Everyone who loves what America was and could be again should read this book."
"A powerful warning to a nation that has been ignoring its problems for far too long."
"This story is so much more than you might think. You have to read it."
**MR. DIAZ'S REVENGE**
E-BOOK: HERE
PAPERBACK: HERE
A teacher on the brink. A father and military combat veteran seeking justice.
Their paths are about to cross and their lives will never be the same…
———————————