It's happening far more often than most in the far-left media care to admit. Democrat politicians are equally silent—a silence that makes clear their disinterest in protecting children in favor of yet more political brinkmanship even as more and more ask one of the most important questions of all regarding the undeniable crisis at our southern border:
WHAT ABOUT THE CHILDREN?
Via The Daily Mail:
**Men are seeking migrant mothers in hopes that they would sell their children so other refugees can claim they are family members seeking asylum at U.S. border
**Groups of men have been spotted approaching the Evangelica Embajadores de Jesus shelter in Tijuana, Mexican, offering $350 for the purchase of a child
**It is unknown if the men were seeking the children for their own asylum purposes or for other refugees seeking entrance to the United States
**Since October 2018, Department of Homeland Security has reported over 1,000 fraudulent families at the border
Mexican authorities are warning refugee mothers about men seeking to buy migrant children to improve their chances of asylum at the United States border.
Officials have grown concerned after men from 'Central America or Haiti' were seen approaching mothers – especially those deemed vulnerable – at the Iglesia Evangelica Embajadores de Jesus shelter in Tijuana offering them $350 to purchase a child to cross into the U.S.
It's unknown if the men were seeking to purchase the children for their own causes or if they were acting as intermediaries for other migrants searching for any possible way to circumvent their asylum requests with U.S. immigration officials.
According to a San Diego Union-Tribune Report, a 44-year-old Honduran mom has decided to keep her sons by her side after she saw men looking to buy children from mothers at the shelter.
'I can't go to work because I can't take my eyes off my boys,' Antonia Portillo Cruz said.
They want to rob our kids so they can cross into the United States,' she added.
News of such tactic being employed by human traffickers in the vicinity of the shelter prompted pastor Gustavo Banda to beef up the security measures and chain down the entrance gate to the church.
'These are cases of desperation,' Banda said.
'Of course, the women have not accepted any of these offers, but clearly this is a huge concern because of the danger to the children.'
A 15-year-old migrant from Haiti told the San Diego Union-Tribune of the moment she saw men visiting the shelter offering to buy children.
'I could not even imagine the horror before I came here,' she said.
———————–
The above clearly outlines the disgusting levels the crisis at the southern border are now reaching. Remember, it was the far-left media and Democrats who, just a few months earlier, were demanding there was no crisis even as tens of thousands marched on the border to declare amnesty and be allowed into the U.S. These groups were encouraged to come, in part, by the very same far-left media and Democrat politicians. An undeniable crisis was made even worse. Then the media cried fake tears for children and mothers being held in processing centers that were pushed beyond capacity. This, in turn, showed the most dangerous criminal element how easy it could be to get into the United States – use a child, any child, to do so. That is exactly what is happening and this terrible horror is the direct result of the media and Democrat politicians whose own actions implicate them in this surge of human trafficking at the southern border.
Apparently, when it comes to politics and the Democrat Party, none are safe.
Not even children.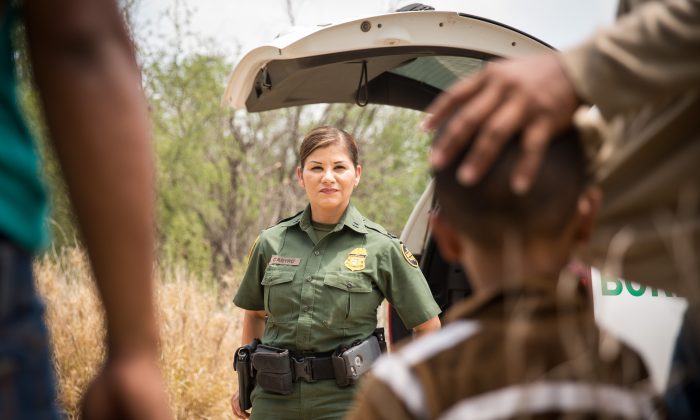 ---