Was former FBI Director, James Comey, doing the bidding of the outgoing/gone Obama administration? Was he colluding with other Deep State operatives? Was he but a part (albeit a very important one) of a far-reaching and deeply entrenched move to politically cripple/destroy a duly elected President of the United States?
The answer is yes, yes, and yes. And while all of the above isn't necessarily new news for those who have been paying attention, what is new is that reports now suggest the DOJ has the proof and the chips are about to fall on some once very powerful heads—James Comey's included.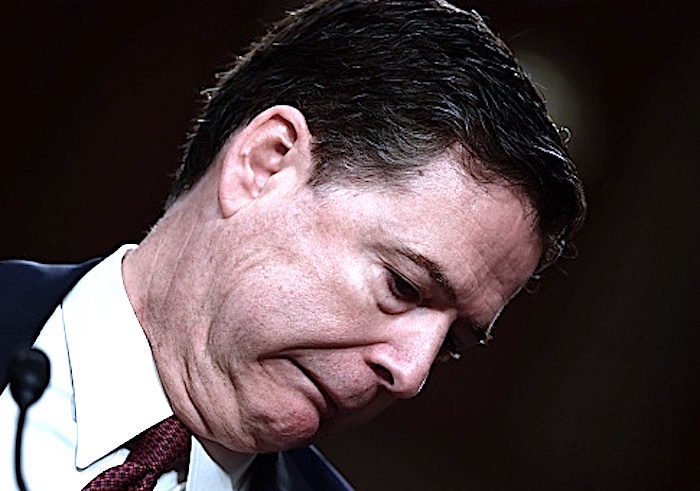 It is one of the most enduring and consequential mysteries of the Trump-Russia investigation: Why did former FBI Director James Comey refuse to say publicly what he was telling President Trump in private — that Trump was not the target of an ongoing probe?
That refusal ignited a chain of events that has consumed Washington for more than two years – including Comey's firing by Trump, the appointment of Special Counsel Robert Mueller, and ongoing claims that Trump obstructed justice.
Now an answer is emerging. Sources tell RealClearInvestigations that Justice Department Inspector General Michael Horowitz will soon file a report with evidence indicating that Comey was misleading the president. Even as he repeatedly assured Trump that he was not a target, the former director was secretly trying to build a conspiracy case against the president, while at times acting as an investigative agent. (that is a BIG no-no.)
Two U.S. officials briefed on the inspector general's investigation of possible FBI misconduct said Comey was essentially "running a covert operation against" the president, starting with a private "defensive briefing" he gave Trump just weeks before his inauguration. They said Horowitz has examined high-level FBI text messages and other communications indicating Comey was actually conducting a "counterintelligence assessment" of Trump during that January 2017 meeting in New York.
In addition to adding notes of his meetings and phone calls with Trump to the official FBI case file, Comey had an agent inside the White House who reported back to FBI headquarters about Trump and his aides, according to other officials familiar with the matter.
Although Comey took many actions on his own, he was not working in isolation. One focus of Horowitz's inquiry is the private Jan. 6, 2017, briefing Comey gave the president-elect in New York about material in the Democratic-commissioned dossier compiled by ex-British intelligence officer Christopher Steele. Reports of that meeting were used days later by BuzzFeed, CNN and other outlets as a news hook for reporting on the dossier's lascivious and unsubstantiated claims.
…What remains unclear is why Comey would take such extraordinary steps against a sitting president. The Mueller report concluded there was no basis for the Trump-Russia collusion conspiracy theories. Comey himself was an early skeptic of the Steele dossier — the opposition research memos paid for by Hillary Clinton's campaign that were the road map of collusion theories – which he dismissed as "salacious and unverified."
…Although Horowitz has focused primarily on whether the FBI misled the Foreign Intelligence Surveillance Court in its applications for surveillance warrants against former Trump campaign adviser Carter Page, he has pursued other related angles, including whether Comey personally misled the president and leaked classified FBI information about him, the officials said.
An attorney for Comey declined to answer emailed questions regarding the Horowitz investigation. 
———————–
The above makes clear there was in fact collusion, obstruction, and conspiracy going on throughout the Trump-Russia investigation, all of which was being perpetrated by the investigators themselves. As others have already indicated, these rogue powers within D.C., regardless of how high up they might be, must be held accountable even if they include a former FBI director and/or a former president.
---
---
"QUITE POSSIBLY THE SINGLE BEST BOOK I'VE READ THAT CAPTURES THE ANGER AND FRUSTRATION OF THE FORGOTTEN AMERICAN WHO FEELS PUSHED DOWN AND NEGLECTED BY A POLITICALLY-CORRECT WORLD GONE MAD. IT'S A STORY THAT IS AS SHOCKING AS IT IS BEAUTIFUL. IT STARTS OUT ONE WAY AND ENDS UP IN A PLACE I DIDN'T SEE COMING THAT HAD ME NODDING MY HEAD AND SAYING, "RIGHT ON!"
I STAND WITH MR. DIAZ BECAUSE I AM MR. DIAZ. WE ALL ARE. THESE ARE THE KINDS OF STORIES AMERICA-LOVING READERS MUST SUPPORT TO HELP FIGHT BACK AGAINST ALL THE CRAZINESS THAT'S TEARING OUR COUNTRY APART.
MR. DIAZ'S REVENGE IS TRULY A MUST-READ." -John K. Simms
E-BOOK: HERE
PAPERBACK: HERE