Military personnel love President Trump. That's an undeniable fact supported by polling data that continues to be strong and certainly far stronger than military support was for Barack Obama. And yet, here is the Establishment Media once again attempting to spin reality into negative reality and this time going so far as attacking the troops themselves for their support of the Commander-in-Chief. It's appalling. Check out this video of CNN's coverage going full on stupid at the 2:20 mark:
Via FOX NEWS:
CNN slammed for trashing Trump's visit to troops, criticizing soldiers for bringing MAGA hats
CNN was slammed for what many called overwhelmingly negative coverage of President Donald Trump's visit to the troops was on Wednesday night.
Both the president and first lady Melania Trump surprised troops stationed in Iraq the day after Christmas, which was followed by another visit with the troops in Germany.
However, there was barely a kind word expressed towards the president regarding his trip overseas — at least on CNN. The network published a report Wednesday evening drawing attention to the troops who brought MAGA hats for the president to sign being against military guidelines, which forbids active members of the military from participating in "political activities."
The story by CNN politics reporter Eli Watkins, headlined "Troops bringing Trump hats to sign may violate military rule," was mocked on social media.
These people are risking their lives for this country and your right to write dumb crap like this. There is nothing wrong with them being excited about a Presidential visit. Trying to get them in trouble for it is pathetic.

— (((AG))) (@AG_Conservative) December 27, 2018
Then people started to remind the media how it said nothing when Barack Obama went around autographing photos of himself for military personnel:
— De McDonald (@WriteBrainMedia) December 27, 2018
So, by the Establishment Media's standards, a POTUS signing a hat that symbolizes making America great again is bad but a POTUS signing pictures of himself (including campaign memorabilia) is good.
This is why Donald Trump was elected. America is sick and tired of the rampant 24/7 media manipulations. And attacking the men and women of our military for supporting their president? That's beyond the pale even for globalist hacks like CNN. Those soldiers, those men and women, mothers and fathers, daughters and sons, were thrilled by the visit from their president. Shame on anyone who would attempt to demean such a remarkable moment.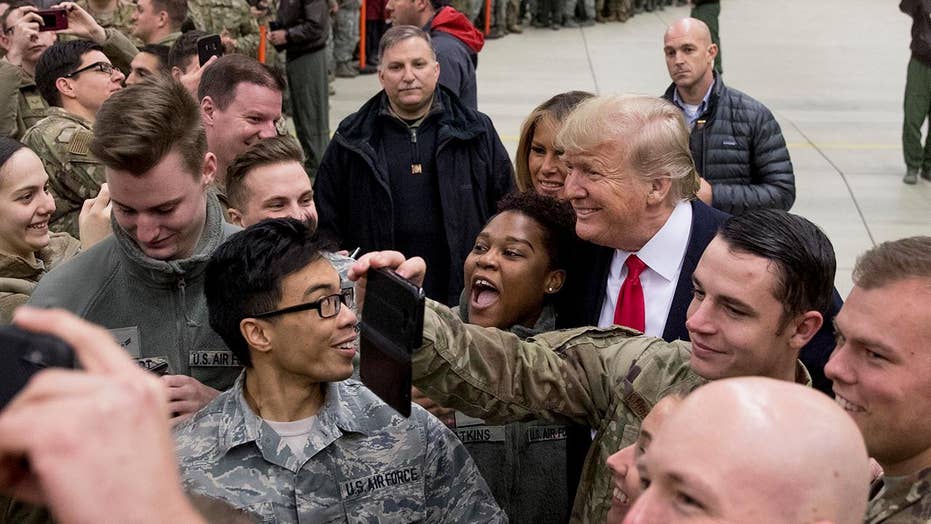 ---