In some places along the border being a U.S. citizen is akin to wearing a target on your chest. From drug smuggling to human traffickers, people are dying as law enforcement officials work desperately to try and keep people safe even as Democrats in Congress ignore the threat in favor of turning the situation into a political fiasco.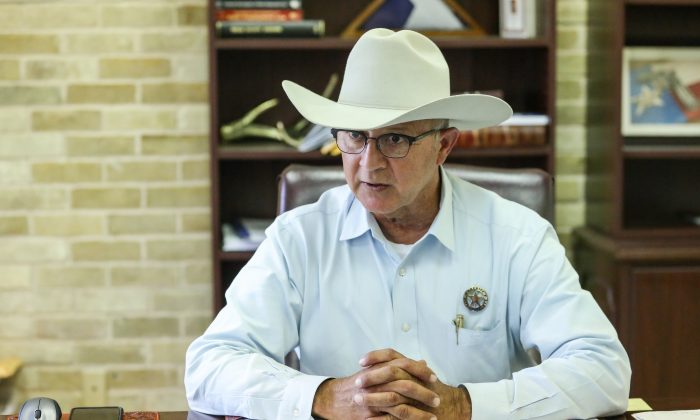 Refugio County Sheriff Raul "Pinky" Gonzales in his office in Refugio, Texas, on Nov. 8, 2018. (Samira Bouaou/The Epoch Times)
REFUGIO, Texas—An illegal alien must travel through at least five counties beyond the U.S.–Mexico border to reach Refugio, Texas, population around 7,300.
Most illegal aliens nabbed by local law enforcement were on their way to Houston, just 165 miles northeast, said Sheriff Raul "Pinky" Gonzales.
"Houston is like a staging area for them. And from there, some of them go to California, some go to New York, a lot of them go up north to Boston," he said in an interview on Nov. 8. Vehicle pursuits are a common occurrence in Refugio County, which is just one of 254 counties in the state.
Just that morning, two different groups of illegal aliens were captured. In one instance, a vigilant driver saw a hand sticking out of the bed of a pickup truck and called authorities.
Nine illegal aliens and the smuggler, or "coyote," were subsequently arrested.
In a second incident on the same morning, a vehicle pursuit from a neighboring county entered Refugio. The chase ended when the vehicle, carrying nine illegal aliens and their coyote, stopped and all 10 tried to flee on foot. Law enforcement scooped them all up.
Gonzales said he also has found the bodies of illegal immigrants dumped by smugglers.
"They put them in trunks in cars, they put them in trucks—where the temperature gets to 130, 120 something degrees—no water, no food, no air. And they die. And they'll just throw them out on the side of the road," he said.
…The deputies patrol alone, but there are usually at least two vehicles out, as well as the local police officer. They back each other up constantly.
Flores said he calls for backup at the first sign of trouble, "ever since a group of aliens that I stopped told me that if my backup didn't arrive so quickly, they would've got in a gun fight with me," he said.
What the deputies do in Refugio might seem like small potatoes, but considering three of the 19 terrorists involved in 9/11 were pulled over in four separate incidents in the months prior to the terror attacks, a traffic stop could turn into something significant.
'They're Not All Good'
Gonzales said that if he wanted to, he could probably round up hundreds of illegal immigrants living in his county, but as a law enforcement officer, he concentrates on illegal activity.
"I don't care if you come from Mars, if you're committing a crime here in my state or my county, I'm going to tend to you accordingly," he said.
…Recently, the sheriff had to deal with the slaying of two of his dogs by illegal aliens trying to evade law enforcement.
The two tracking dogs were trained to find lost children or Alzheimer's patients, and they would bark once they located the person.
But this time, when the dogs found the group of illegal aliens in the brush and barked to alert the deputies where they were, they were killed.
"They strangled two of our dogs for no reason. These guys that killed these dogs, they could have very well killed one of my deputies or any other law enforcement," Gonzales said.
"And these are the type of illegals that we deal with. … Not all of them come here in good faith. A lot of them come here to do wrong, get in gangs, and get involved with sex trafficking—they're not all good."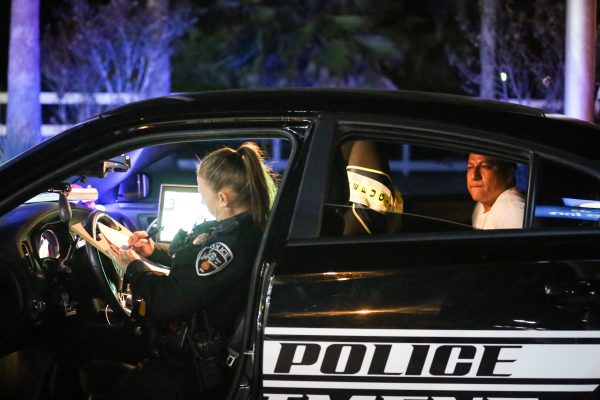 Gonzales is all too familiar with illegal activity on the southwest border. Before coming to Refugio County, he spent years as a boat captain on the Rio Grande in Texas—the dividing line between the United States and Mexico.
"We picked up bodies. Like in a week, we'd pick up to 10 bodies," he said. "A lot of times we'd see kids that had drowned, trying to swim across by themselves. The parents are the ones that sent them by themselves."
He said he helped a lot of teenage girls and would ask them how they got across, and why they were there without parents.
He was often told, 'Well, our parents told us to come here.'"
"And they'd tell me horror stories about what they had to go through to come here. They were raped, they were vandalized, a lot of them. They're used as sex slaves. [The smugglers] bring them across and use them as sex slaves here in the United States," Gonzales said.
"So a lot of time, these people are victimizing their own people for revenue, for money, and that's what people don't understand."
Gonzales said he would often stop at the grocery store before a shift to buy extra drinks and food for the illegal aliens he would undoubtedly encounter.
"I feel very sorry" for them, he said. "They're human beings, you know. We're supposed to love them. But we as law enforcement, we took an oath that we would abide by the law and protect and serve our people."
He said it's very hard to do that when you can't track people who cross illegally and evade law enforcement.
"You know once they blend in with the population, they're gone," he said. "They can commit serious crimes, [then] they can just pack up and go back home and we'll never find them."
Gonzales said 80 to 90 percent of the illegal aliens he picked up on the river were not from Mexico.
"They were from El Salvador, Honduras, from India, China—we'd catch a lot of Chinese—people from all over the world," he said. Many said they traveled by boat to Brazil, where they met a smuggler who escorted them through Mexico and to the United States.
"Some people are here to better their lives—and it doesn't make it right—but not all of them," he said.
Gonzales said he has caught a lot of gang members, especially MS-13, as well as criminals who had been deported. In one case, two men who had been deported after serving prison sentences were back a week later, illegally, with a group of Hondurans.
"These Hondurans weren't the type of guys that came to look for work. They were tattooed up, you know. One of them didn't have an ear, they were just scar-faced. I mean, you could tell they weren't good hombres," he said.
The Dream Act Effect
Gonzales said he is glad President Donald Trump has enhanced border security and sent active-duty military to help stop illegal crossings.
"We can't [have] this group of people come and invade our country. This caravan, the majority of them are males—flying their flag," he said. "To me, that's intimidating."
He said he thinks many of the politicians who often side with illegal immigrants are looking for future votes.
"The difference between these [illegal] immigrants coming in now, they're trying to bring their country into our country," he said. "We are the United States of America, and I think this oughta be a Christian country the way our forefathers perceived it to be."
However, Gonzales said the illegal immigrants he catches aren't as confident as they were during the Obama era.
"When Obama was in office, these illegal immigrants were very cocky with us. They went on about 'the Dream Act, Obama, the Dream Act,'" he said.
Gonzales said most Americans don't understand what law enforcement deals with as far as illegal alien crime.
"It's very, very hard to do our job," he said. "We already have thugs that are citizens here, we already have bad people—we don't need any more."
"As a sheriff, as a leader in law enforcement, I'm very concerned about my people's safety. I'd feel horrible if somebody got injured, seriously injured, or killed, because [of]—I don't care if they're illegal or not, but especially—an illegal person. They shouldn't have been here to begin with."
The sheriff provided a snapshot of what it takes for law enforcement to deal with one vehicle pursuit of an illegal alien.
"It costs a lot of taxpayers' money chasing these people, [it] costs a lot of man hours. When a county deputy or a DPS state trooper gets on the chase, you get all different law enforcement agencies involved in the chase—you know, we're trying to back each other up. There could be 12 officers for one chase, for four or five hours. A lot of times, they'll wreck their vehicles, damage their vehicles," he said.
"It's a burden to us, it's a burden to the people of the United States."
---