Democrats opposed to any and all common sense border security clearly wanted chaos on America's southern border.
Well, they got it.
Via: Breitbart
Illegal immigration this year is on pace to more than triple the levels of just two years ago, new projections reveal.
In the month of February, there were more than 76,000 illegal border crossings and inadmissible foreign nationals, the most in this month in 12 years — a record for President Trump's administration.
Princeton Policy Advisor Steven Kopits now projects that illegal border crossings for this calendar year will be more than three times what they were in 2017 and nearly double last year's total crossings. The projection predicts there will be more than 840,000 illegal border crossings this year, though Department of Homeland Security (DHS) Secretary Kirstjen Nielsen predicts about 900,000 crossings.
Should illegal immigration reach this level, as Kopits projects, it would mean that border crossings in Trump's third year in office outpace every single year of illegal immigration under former President Obama.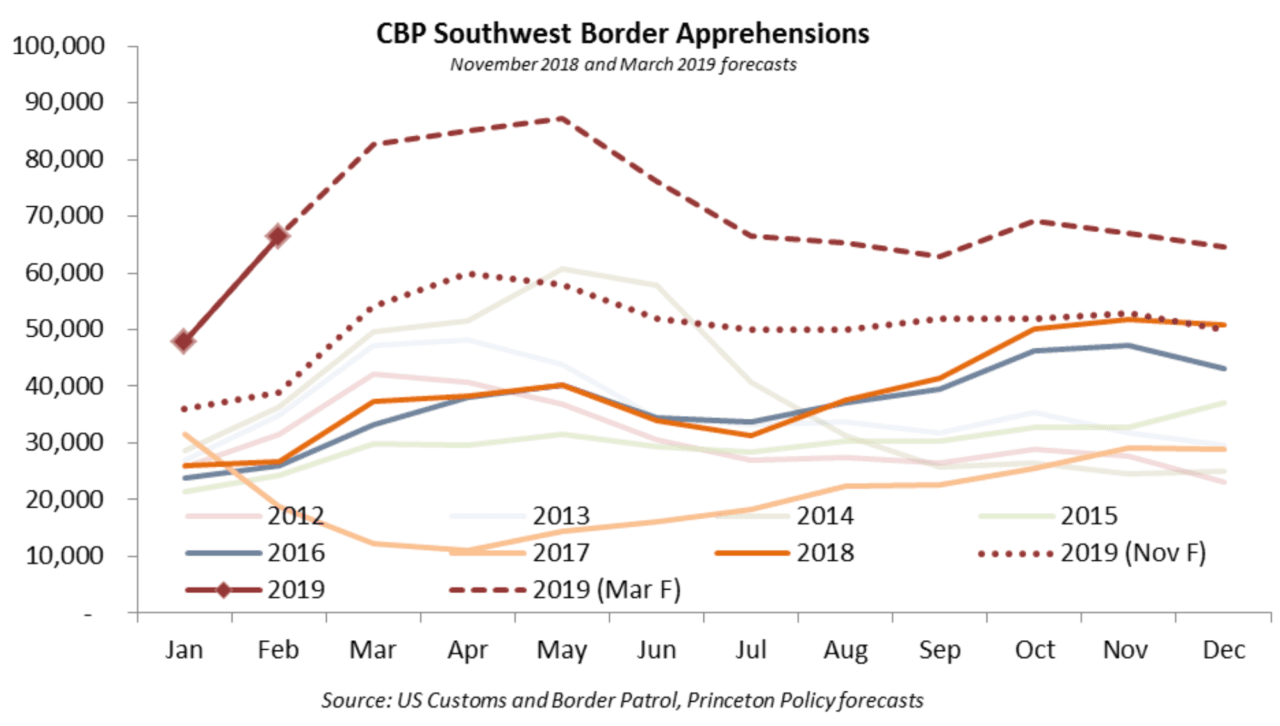 "Crossings are now clearly at crisis levels, and the pressure will be on Democrats in Congress to tighten asylum laws if they intend to hold the House in 2020," Kopits notes. "I would note that migrants are also certainly aware of this, and therefore apprehension numbers could rise substantially heading into the summer months as migrants rush to cross the border before new legislation can be prepared."
While Nielsen receives praise from her close allies in the Washington, D.C. beltway and political establishment, her tenure has been marked with overseeing the largest illegal immigration surge not seen since former President George W. Bush.
———————-
That last point above is an important one that is purposely ignored by most in the media. The illegal immigration crisis has become a fixture of the Democrat Party playbook during Republican presidencies. The result is border chaos, including dangerous violence, but also more and more Democrat-controlled illegal votes come election time.
Anyone who doubts this fact need only look at the voting habits of Texas by district and note how the largest pocket of pro-Democrat votes clearly comes from border communities where illegal immigration is at its worst. Coincidence? Hardly.
Consider that without Texas no candidate who is not a Democrat would likely ever win a presidential election in America again. Now look at that map above. It clearly details what the Democrats are up to in fomenting the ongoing crisis at the southern border and also why they are so aggressive in their fight to keep President Trump from improving border security. 
Tens of thousands of illegals pouring into Texas every month which then turn into hundreds of thousands more Democrat votes come Election Day.
It will be sooner, not later, that Texas tips blue for good and then it's lights out for a safe, sovereign, and thriving, America. 
---