Reince Priebus, the then-RNC Chair, was never a fan of Donald Trump's insurgency presidential campaign. Priebus was allied with party Establishment figures like Paul Ryan, Mitt Romney, Jeb Bush, Scott Walker, and John Kasich. And yet, despite that anti-Trump history, Donald Trump made Priebus his White House Chief of Staff so that Priebus could utilize his extensive party contacts and influence to move the Trump agenda forward.
That hasn't happened and as a result Mr. Priebus is now poised to find himself standing outside the Trump White House looking in.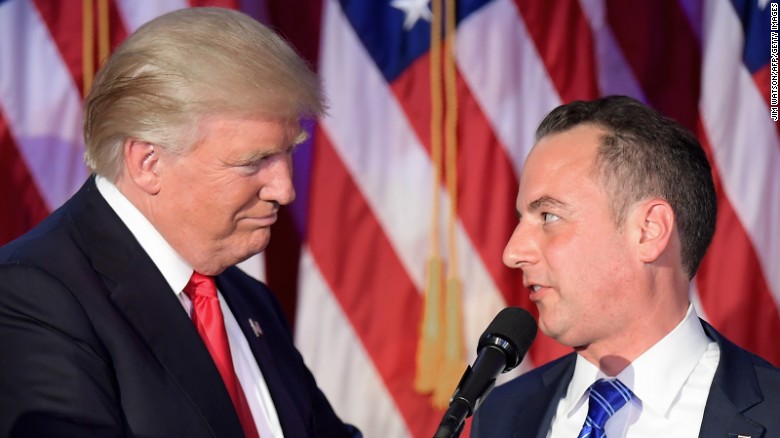 "He won't last the summer."
So goes the repeated mantra of several figures familiar with the Trump White House. It is a belief that was the foundation of today's report by THE HILL regarding the same subject:
Priebus 'most imperiled' person at White House
"…The Post reports that Trump is dissatisfied with the chaos in the White House and wants someone with more governing experience to take over the top job. Sources told the Post that Office of Management and Budget Director Mick Mulvaney and Rep. Chris Collins (R-N.Y.) have both been floated for the job.
One source told the Post that Priebus is "the most imperiled person here."
The report claims that Priebus's job security could rest on the passage of healthcare and tax reform. According to the Post, Priebus is heavily involved in the White House efforts to repeal ObamaCare and pass tax reform and could exit the White House early to save face if he feels he's accomplished his goals."
Trump's reported dissatisfaction with Priebus comes in two parts. The first is the internal chaos within the Trump White House – namely leaks and alleged constant infighting. The second is how successful Congress has been in obstructing the Trump agenda – including by the very Republicans Priebus was supposed to gain the support of.
Rumors are also circulating that Mr. Priebus wants out but not before he succeeds in helping to get Congress to pass healthcare reform which in turn will lay the groundwork for sweeping tax reform to soon follow. If he can accomplish that his legacy will remain intact and he can exit the Trump White House with his head held high.
The question is if Donald Trump is willing to allow Priebus that long.
Whispers indicate that might not be the case.
——————–