When FBI Director James Comey declared he would not seek prosecution against Hillary Clinton for her illegal private email server, claiming then that she had been negligent, but not criminally so, Democrats applauded Comey's decision. Now, with Director Comey announcing the investigation has suddenly been re-opened due to new evidence, these same Democrats are actually forwarding the conspiracy theory that Comey is being controlled by Russia's Vladimir Putin.
THESE PEOPLE ARE NUTS.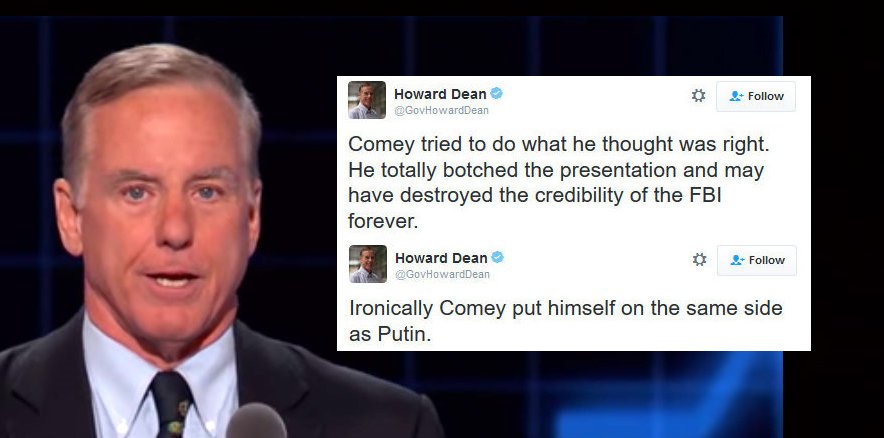 #comey is no better than #Putin in trying to manipulate the election.

rigged?

— Kevin (@KevinWalsh222) October 29, 2016
What these same Democrat operatives fail to account for is the fact it was Hillary Clinton who, as Secretary of State, sold a stunning amount of uranium rights to Putin's Russia, and in turn, received millions of dollars in donations to the Clinton Foundation, as reported just last year by none other than the New York Times:
Cash Flowed to Clinton Foundation Amid Russian Uranium Deal
At the heart of the tale are several men, leaders of the Canadian mining industry, who have been major donors to the charitable endeavors of former President Bill Clinton and his family. Members of that group built, financed and eventually sold off to the Russians a company that would become known as Uranium One.
If there is anyone being controlled by the Russian Putin-government, it's Hillary Clinton and the Democrat Party, not FBI Director James Comey.
And is it any wonder America's standing has fallen so much throughout the world? Our government is being run by the criminally insane.
———————