The Cruz campaign knows it has little hope of winning the majority of delegates prior to the GOP convention and so is hoping for a longshot Republican convention victory that will include obtaining a majority of the 164 delegates won by Marco Rubio during previous primary elections.
Apparently, both Rubio and Cruz camps are negotiating the terms of that deal right now which will include, but is not limited to, a high-profile endorsement from the Florida senator to the Texas senator in the coming days.
Prior to suspending his campaign (which allows him to keep his delegates "bound" to him) Marco Rubio amassed 164 total delegates. Should the Republican convention be contested/open/brokered, that 164 figure could prove pivotal in allowing Ted Cruz a path, however narrow and unlikely, to the nomination.
Some of those delegates will be bound by state rules requiring they remain with Rubio, but a majority of those delegates, particularly after a first vote on the convention floor, will be free to switch to another candidate and if Senator Rubio formally releases them, he can also during that process, direct them to then choose Ted Cruz. (negotiations between the Cruz and Rubio camps, along with involvement of state party leaders working in conjunction with this plan will expedite the process)
It is a scenario that Cruz told the media he was opposed to just two weeks earlier but is now actively seeking to see play out as it is the only likely remaining hope he has to be the Republican nominee.
As for Donald Trump, he is presently more than halfway to the required 1,237 total, and is poised to win some sizable delegate battles in the coming weeks via currently Trump-favored states like New York and New Jersey. If he fails to reach that 1237 mark though, the New York billionaire and author of The Art of the Deal might very well find himself the victim of a Ted Cruz and Marco Rubio negotiation intended to keep the GOP establishment power structure intact.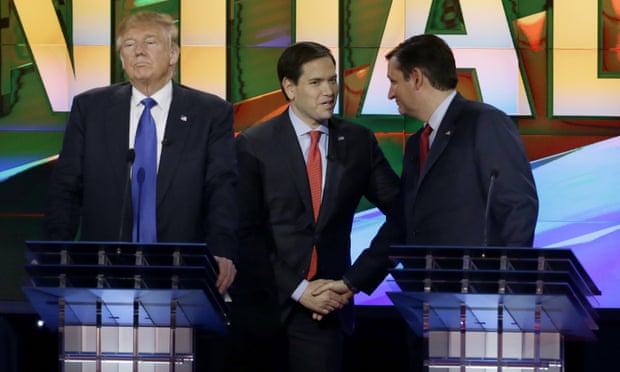 Ironic.
——————-
"A RIVETING, EPIC POST APOCALYPTIC SERIES WITH ENGAGING CHARACTERS AND A STORY FRIGHTENINGLY FAMILIAR TO THE WORLD WE NOW LIVE IN."
What do you do when your own government is the thing trying to destroy you?
Answer: FIGHT.
GET THE FIRST FIVE SEASONS FOR ONE LOW PRICE AND SAVE 50%!
AVAILABLE:  HERE
AVAILABLE:  HERE