President Donald J. Trump is said to be shaking his head (again) at the Republican leadership in Congress who are now proposing to RAISE the tax bracket on low-income Americans. Yes, you read that right.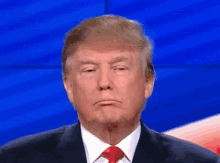 These Republicans are quick to point out that while they are doing that, they are also proposing to double the individual and married deduction rates to $12000 and $24000, respectively – meaning the proposal is actually a significant tax deduction.
While that might be true numbers-wise, POTUS Trump is reportedly uneasy with the complication of selling something to the American people that has the lowest tax bracket being raised from 10 to 12 percent and then having to explain that the raise in rate will be more than offset by raising the deduction rate.
You see, even in trying to explain it things come off a bit confusing and Mr. Trump wants to keep things simple. Congress on the other hand seems all about complication on top of complication.
"IDIOTS! WHY NOT KEEP THE RATE THE SAME AND STILL RAISE THE DEDUCTION RATE? THAT'S SOMETHING WE CAN SELL TO THE PEOPLE . DEMOCRATS CAN'T OPPOSE THAT."
So bellowed a member of the Trump inner circle earlier this week. POTUS Trump is scheduled to speak about the pending tax plan to a large crowd of supporters in Indiana but will likely be short on details. He wants to leave the door open for further negotiation and simplification of what is still coming out of Congress.
The good news is rates are going down and there will be fewer brackets, perhaps as few as three from the current number of seven. If Republicans do actually give Mr. Trump what he wants it will be the most significant tax system overhaul since Ronald Reagan's reform in the 1980's that resulted in the booming economy of the 1990's. (And it should be noted Bill Clinton drastically reduced capital gains taxes at that time as well which gave a powerful economic 1-2 punch that worked in conjunction with the earlier Reagan tax cuts. Yes, there was a time when Democrats were willing to lower taxes.)
With yet another failed attempt to repeal and replace Obamacare, tax reform remains the most important opportunity for Mr. Trump to deliver something legislatively significant to the American people.
Will Congress let him?
We should know soon.
—————————–