Today members of Congress will cast their votes for or against the House-proposed Obamacare overhaul legislation. The Paul Ryan bill is a confusing, contradictory thing, largely beholden to the pharmaceutical industry that has donated so generously to his political career. (These same large annual donations apply to other members of the current GOP leadership team in the House and Senate as well.) The vote will be close and the ordeal has given Mr. Trump his first real taste of the deep-rooted, self-serving dysfunction that is Washington D.C.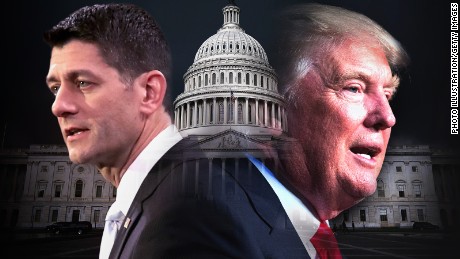 While improvements to the Ryan bill have been cobbled together via input from other members of Trump and considerable effort via Trump White House representatives, it remains something far less than the sum of its parts from a party that has been promising voters a repeal and replace alternative to Obamacare for seven years – and winning elections because of that promise.
Mr. Trump has publicly given the bill support likely out of a sense of duty that this is for now the best he can get while trying to herd this mewling flock of Congressional cats. Behind the closed doors of the Oval Office, though, he is said to be disgusted by the GOP leadership that has revealed itself to be devoid of the very thing that title demands – leadership.
Via the The New York Times ;
"…He said ruefully this week that he should have done tax reform first when it became clear that the quick-hit health care victory he had hoped for was not going to materialize on Thursday, the seventh anniversary of the act's passage, when the legislation was scheduled for a vote.
Two of his most influential advisers — Stephen K. Bannon, his chief strategist, and Gary D. Cohn, the National Economic Council director, who had a major role in pushing the bill — came to agree, and did not like the compromise that was emerging. So on Thursday night, Mr. Trump delivered an ultimatum.
He dispatched his budget adviser, Mick Mulvaney, to a conference of House Republicans and told them they had to vote on Friday. And if the bill fails, he said, Mr. Trump will move on."
Mr. Trump knows Obamacare is a disaster. So do Republicans. And though they won't admit it publicly, so too do Democrats. The President wanted a "rip the band-aid off quick" approach. Instead, due largely to the complicated machinations of House Speaker Paul Ryan, a version of Obamacare Light was pushed forward which angered the more conservative wing of the party. (And, it is said, many within the Trump White House who couldn't believe how inept Ryan was proving to be.)
Hoping to salvage some version of reform, Trump went into negotiating mode, spending hours each day personally reaching out to members of Congress from both parties to garner support. He remained cordial with Senator Rand Paul, among the most vocal opponents of the RyanCare bill, and according to some, indicated privately to the Kentucky senator that the bill was in fact a  "pile of sh*t" but that at this point, something was better than nothing, and more work could continue on improving the original version as the year went on.
The New York times indicated that Mr. Trump's son-and-law and close adviser, Jared Kushner, wanted the President to back away from the Ryan proposal altogether soon after it was announced. Kushner knew it was a mess, knew it did too little while pitting conservative Republicans against moderates, and would stall the Trump agenda.
It appears Mr. Kushner was right.
Trump is left today trying to push an 11th hour success for what is, an already less-than-successful bit of legislation that will get further trampled when it is shipped off to the Senate side. Even if he pulls off this messy partial political victory in the House, it has left a very sour taste in his mouth.
Donald Trump is one who is willing to forgive, but he never forgets. He is learning a great deal about how things don't work in D.C. Paul Ryan is a big reason for this dysfunction. Ryan appears to be doing what some very deep pockets sent him back to D.C. to do: Stall the Trump agenda until 2020 when they can be rid of him.
———————————–
UPDATE: House Speaker Paul Ryan traveled to the White House today to inform President Trump the RyanCare legislation lacked the votes for passage in the House. Mr. Trump is said to have shrugged off the failure while with Mr. Ryan, and then quickly reached out to media to indicate Obamacare will fail of its own accord soon which will in turn force Democrats to have to make a deal. That might be true, but today's failure is a significant setback for the Trump agenda as it has dominated the efforts of both the White House and deeply divided Republicans in Congress. At the very least, it is a particularly dark mark against Speaker Ryan who is now a wounded Speaker with declining leverage among his own caucus.
Look for the President to now quickly pivot to two issues he is now even more motivated than ever to see succeed – tax reform and the border wall. Apparently, he is already working the phones on those issues this evening. For Mr. Trump today has been  hard lesson. It will be interesting to see if he's a quick learner.
———————————–