It was a much-publicized 40-minute sit down at the G-20 Summit between Russia's Vladimir Putin and America's Barack Obama that the media indicated might have been an important improvement in cooperation between the two world leaders.
In actuality it was Putin sitting down, staring into the eyes of Barack Obama, and pushing a collection of images at Mr. Obama that outlined ISIS-controlled oil fields and oil transportation routes the U.S. military had for over a year inexplicably left intact. Putin gave Mr. Obama a thin smile and then told the American president the oil fields would soon be decimated by Russian air attacks with or without President Obama's approval.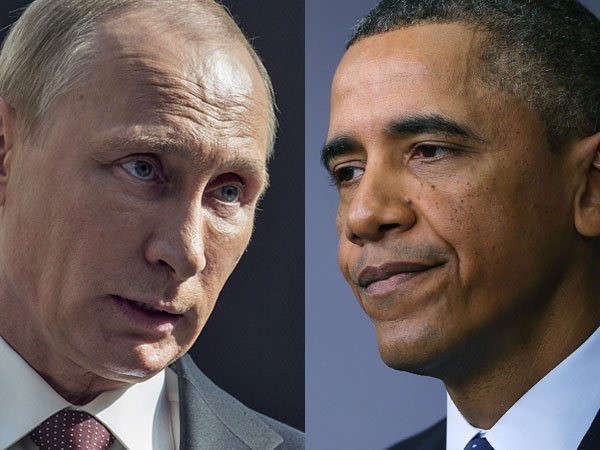 Vladimir Putin was said to be incredulous that American military forces had allowed ISIS to continue making tens of millions of dollars off of oil sales – money that is then being used to recruit more terrorists and initiate terrorist attacks throughout the world.
———————-
Mr. Obama's jaw tightened as he listened to the interpreter finish giving him Vladimir Putin's directive as the Russian president leaned even closer to him from across the small table that separated the two world leaders. The former KGB operative's eyes remained fixated upon Barack Obama's, complimented by a thin smile that spoke to the Russian's absolute determination to leave that table in complete control of his nation's interests regarding the ongoing ISIS conflict.
After several tense seconds, President Obama looked away and then began speaking. Putin awaited his own interpreter and with each word from Mr Obama, his smirk became more pronounced. Barack Obama spoke of the need for cooperation, of dealing with Assad, of an international approach to ensure fairness to everyone involved.
Mr. Putin jabbed a finger at the ISIS oil fields photographs and declared them gone. He then rose up from his chair, smiled warmly for the media cameras watching the exchange, and then later gave the now infamous comments that made clear his feelings toward the American president:
Putin Laughs Off Obama At G20 Summit: "He's A Child…He's A Child."
Vladimir Putin completely dominated Barack Obama during that brief but critically important exchange between them.
Within hours of that meeting, U.S. forces began bombing ISIS oil transport trucks. The Obama White House moved quickly to push the American media to detail those attacks as a show of Barack Obama's determination to defeat ISIS in an attempt to minimize Putin's growing influence as the dominant world leader in the war on ISIS. What the White House didn't disclose (but disgruntled military operatives then leaked) was that it ordered leaflets to be dropped prior to the bombing campaign to allow "innocents" time to escape.
The Obama administration proudly claimed it destroyed 116 ISIS oil transport vehicles.
Russian military then proceeded to decimate over 500 hundred ISIS transport trucks – and did so without prior warning.
Statistically, the Putin-directed response to ISIS is 500% greater than that overseen by Barack Obama which would appear to only reinforce Mr. Putin's claims of Barack Obama's childlike approach to dealing with Muslim terrorists.
The Russian Defense Ministry released this video of one of those recent attacks: (H/T ZeroHedge)

—————————
HE'S A TERRORIST'S WORST NIGHTMARE…
Mac Walker's Rules of Engagement:
SHOOT FIRST. KICK BODY. REPEAT.
Former Navy SEAL sniper and government gun for hire Mac Walker finds himself in an uneasy alliance with the beautiful and mysterious Vatican operative Stasia Wellington as they fight to save the plane's passenger and defeat the terrorists and their plot to kill tens of thousands. Mac Walker's 40,000 Feet is the first volume in the highly popular Mac Walker military thrillers series that has earned an enthusiastic following of fans as they cheer the never give in and never give up nature that embodies the Mac Walker character.  GET IT:  HERE
"Mac Walker's 40,000 Feet is one hell of a terrorist military thrillers ride! Takes off like a jet and never lets up. Well done…"
—————————