In 2016 Donald Trump had a reasonably strong showing among Working-Class union voters across America. Many of those voters, though, remained true to their historic allegiance and voted for Hillary Clinton. Now it's 2018 and more and more of those Hillary union voters have jumped aboard the job-creating Trump train and it has Democrats increasingly worried about their prospects to defeat President Trump in 2020.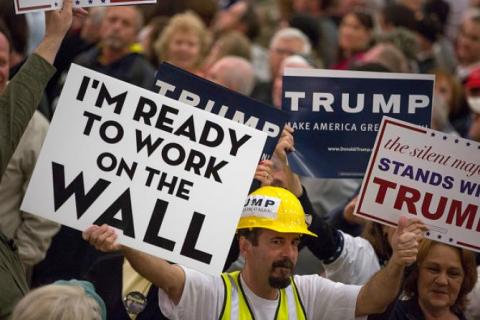 Via NBC News:
The legitimate fears among conservatives and many others that heated up during the election of Donald Trump remain on a simmer. And the Democrats' angry demonstrations and embrace of a leftist agenda could confirm 2020 Trump voters' 2016 concerns that the country they know is slipping away — and only Trump has the courage to stop it.
Assuming the economy continues to hum along and jobs, particularly in manufacturing, keep getting added by the hundreds of thousands, voters who worried that Trump wasn't up to the job and reluctantly supported Hillary Clinton could feel comfortable backing the president. Indeed, Trump's approval rating has reached a new high this week, according to an NBC News/WSJ poll.
…Top Democratic prospects like Sens. Kamala Harris of California, Elizabeth Warren of Massachusetts, Bernie Sanders of Vermont, Kirsten Gillibrand of New York, Cory Booker of New Jersey and former Vice President Joe Biden are all running to the left — or are already ensconced there.
They're in a place America has never really gone when electing presidents. Senator Barack Obama looked pretty far to the left, at least from the perspective of a conservative. But he did his best to sound moderate, even opposing gay marriage during his first presidential run.
That's over. The left is now comfortable in its ideological home. But it's a house haunted by the spirit of McGovern.
—————–
And therein lies the problem for Democrats hoping to win national elections – Middle-Class America remains disgusted by far left ideology that is on display via such places as news networks like CNN, Hollywood, and social media. The Democrat Party seems increasingly intent on a path of self-destruction and is just as motivated to take the rest of the country with it.
---