Wow, that is quite a revision. From an original report of 213,000 for January to a revised report of 300,000. 
And once again, crickets from the Establishment Media…
Via Business Times:
[WASHINGTON] Hiring by private US companies again beat expectations in February, pointing to continued robust health of the labor market, according to a survey released Wednesday.
Private companies hired 183,000 new workers in February, far stronger than the 175,000 economists were expecting, the survey showed, according to payroll services firm ADP.
Hiring in January was revised up to 300,000, the highest since February 2006, according to ADP, which originally reported a 213,000 gain.
—————-
When Donald Trump was running for president he made clear his intention was to get the economy back on its feet first via an aggressive America First agenda and than after that was accomplished he would turn his attention toward getting the deficit under control.
He's nearly made good on the first part of that promise and now the D.C. Establishment and America's enemies (often one and the same) are fearful the president is almost ready to start in on the deficit which if he's successful would return even more power back into the hands of the American people.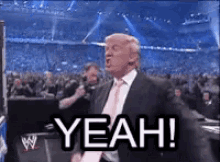 ---