Just a few days ago House Democrats and their media cohorts were charging the Trump White House with covering up "evidence" of a quid quo pro attempt by President Trump against Ukraine. The president shrugged it off, ordered the phone call transcript to be released, and lo and behold, yet again, he has exposed the lunatic bias of those who oppose his remarkably successful America-First administration. President Trump also exposed something else — a far-reaching conspiracy between some very high-ranking Democrats and nations like Ukraine, Russia, and China.
Oh my.
Via The Week:
On Tuesday evening Nancy Pelosi made one of the most colossal blunders in the modern history of American electoral politics. Rejecting the accumulated wisdom of a long and successful career in the House of Representatives, she set aside her own instincts and announced the beginning of formal impeachment proceedings against President Trump on the basis of a third-hand rumor about a phone call with the president of a Eurasian republic.
Pelosi knows this will not be popular. She knows more than that. She knows that it will be a disaster for the Democratic Party, that it will inflame the president's base and inspire even his most lukewarm supporters with a sense of outrage. She knows that in states like Michigan, upon which her party's chances in 2020 will depend, the question of impeachment does not poll well. She knows, further, that Joe Biden will not be able to spend the next 14 or so months refusing to answer questions about the activities of his son, Hunter, in Ukraine, and that increased scrutiny of the vice president's record in office will not redound to his credit. She and her fellow Democratic leaders had better hope that someone like Elizabeth Warren manages to steal the nomination away from him before this defines his candidacy the way that Hillary Clinton's emails and paid speechmaking did during and after the 2016 primaries.
…Where is all of this headed? In her press conference Pelosi bandied idle threats, but she knows she cannot enforce them. She also knows, surely, that she did not need to make them in the first place. Trump has made an end-run around the Democrats by announcing that he will release a transcript of his phone call with Volodymyr Zelensky on Wednesday morning. If there is nothing in the text that justifies the perfervid speculation of his liberal enemies — and it is impossible to imagine his agreeing to its release if there were — it will not be possible to retreat from the opening of impeachment proceedings without embarrassment.
——————————————–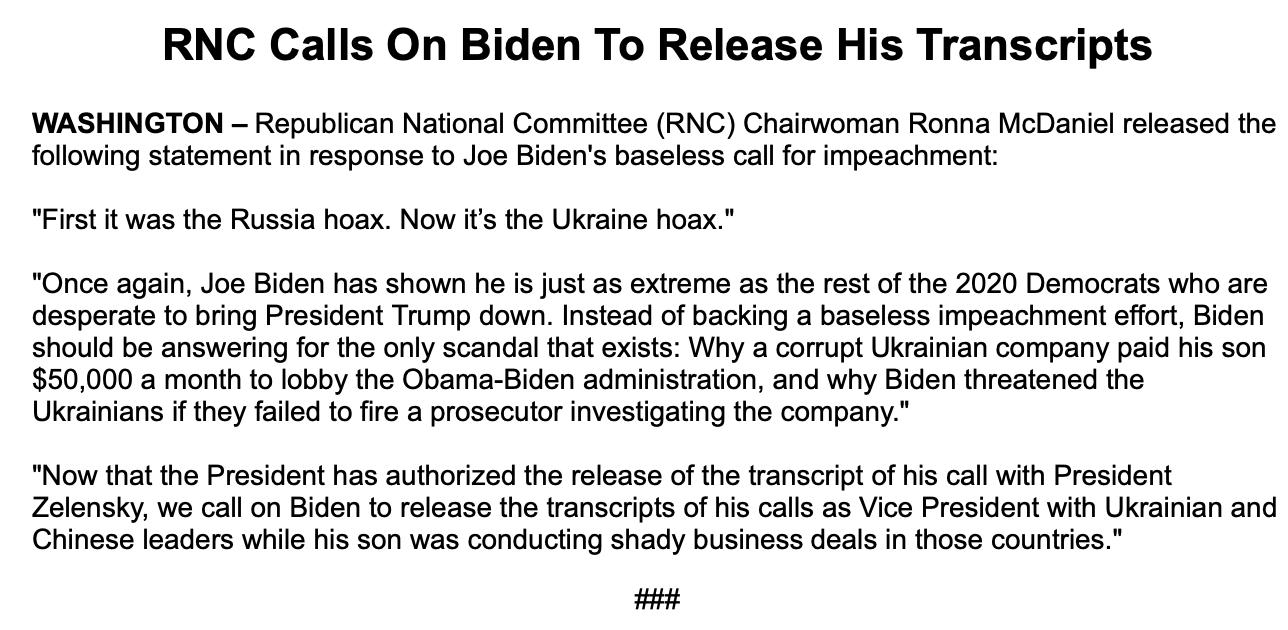 ———————————–
Ukrainian Prosecutor has evidence of the Biden family stealing millions from Ukraine and request a meeting with AG Barr
From an article from APRIL 2019
Ukrainian Prosecutor General Yuriy Lutsenko: We have evidence of the Biden family stealing millions from Ukraine and request a meeting with AG Barr immediately.
* Sworn statements from two Ukrainian officials admitting that their agency tried to influence the 2016 U.S. presidential election in favor of Hillary Clinton. The effort included leaking an alleged ledger showing payments to then-Trump campaign chairman Paul Manafort;
* Contacts between Democratic figures in Washington and Ukrainian officials that involved passing along dirt on Donald Trump;
* Financial records showing a Ukrainian natural gas company routed more than $3 million to American accounts tied to Hunter Biden, younger son of then-Vice President Joe Biden, who managed U.S.-Ukrainian relations for the Obama administration. Biden's son served on the board of a Ukrainian natural gas company, Burisma Holdings;
* Records that Vice President Biden pressured Ukrainian officials in March 2016 to fire the prosecutor who oversaw an investigation of Burisma Holdings and who planned to interview Hunter Biden about the financial transfers;
* Correspondence showing members of the State Department and U.S. embassy in Kiev interfered or applied pressure in criminal cases on Ukrainian soil;
* Disbursements of as much as $7 billion in Ukrainian funds that prosecutors believe may have been misappropriated or taken out of the country, including to the United States.
Source: The Hill
---