President Donald Trump is much more popular with the American people than the far-left Establishment Media would have anyone know. (Remember all those polls calling for a Hillary Clinton landslide in 2016?)
Now, as a clown-car gathering of Democrat candidates scramble to win their party's nomination, President Trump is quietly but methodically doing the hard work of expanding his already significant voter base across America including a number of pivotal blue states.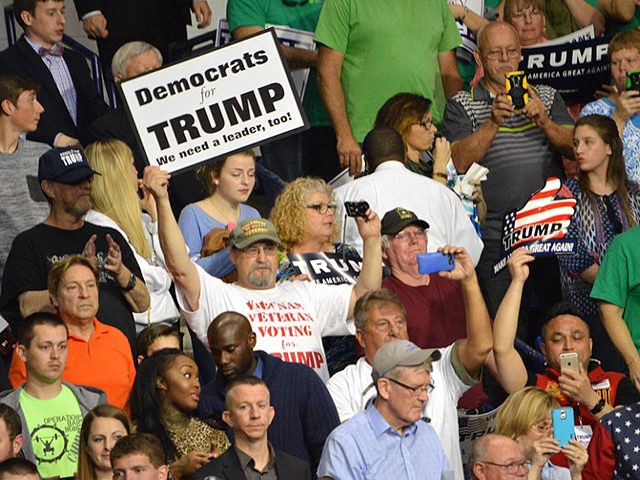 Via TIME:
When President Donald Trump steps on stage for a campaign rally in Rio Rancho, New Mexico next week, even his own campaign staffers know he will be facing long odds. A Republican candidate for President hasn't won the state since 2004 when George W. Bush beat John Kerry there by a margin of just 5,988 votes. Trump himself lost the state by eight points to Hillary Clinton in 2016 and his disapproval rating among registered voters there is a crushing 57%, according to the Morning Consult voter tracking poll.
Nonetheless, Trump's campaign is betting it can win in New Mexico. Flush with cash, the campaign is planning to announce a state director and additional ground staff there in the coming weeks, a campaign official tells TIME. Internal campaign data has convinced Trump's political advisors they can energize a slice of the state's Hispanic voters to vote for Trump in 2020 by emphasizing Trump's handling of the economy, border security and his trade confrontation with China. According to U.S. Census data, 49.1 percent of New Mexico's residents identify themselves as Hispanic or Latino.
…Trump's political strategists say they aren't carving out a new path to 270 electoral votes and instead want to run up the score. In the 2016 race, the Trump campaign didn't have the luxury of time or a huge war chest. "Last time we had a better air game than ground game," Kushner says. "This time, we've had a couple of years to prepare. We've refined our data and political operation. We've invested $50 to $60 million over the last couple of years to make the data significantly better."
…Not all the blue states are long shots like New Mexico. While the GOP hasn't won Minnesota since Richard Nixon took the state during his landslide victory in 1972, Trump lost to Clinton there in 2016 by a slim 1.5 percentage points. The Trump campaign hired a full-time state director in June and saw an uptick in Republican voter registrations in recent months.
The Trump campaign is also building out substantial ground operations in New Hampshire, where Trump lost by less than 1%, and Nevada, where Trump trailed Clinton by 2.4%. In both states, Trump was on the ticket with Senate candidates, Kelly Ayotte in New Hampshire and Joe Heck in Nevada, who distanced themselves from Trump. The Trump campaign and the RNC have told local party officials in those states they hope more unified support for Trump could help increase Republican turnout and tip those states for Trump.
There is a group of voters the campaign calls "2018 disengagers." These are voters who enthusiastically turned out for Trump in 2016 but sat home during the mid-term elections in 2018. Campaign data indicates those voters have "a high propensity" for going to the polls when Trump is on the ballot, Trump's strategists say. This has led them to argue that even in states where Democrats made headway in 2018, Trump could still bring out a lot of voters in 2020.
---