President Trump has actually done what other presidents only gave lip service to – reform the criminal justice system to make it more fair and equitable in serving the needs of ALL Americans.
Today, in response to that remarkable effort, he received the Bipartisan Justice Award.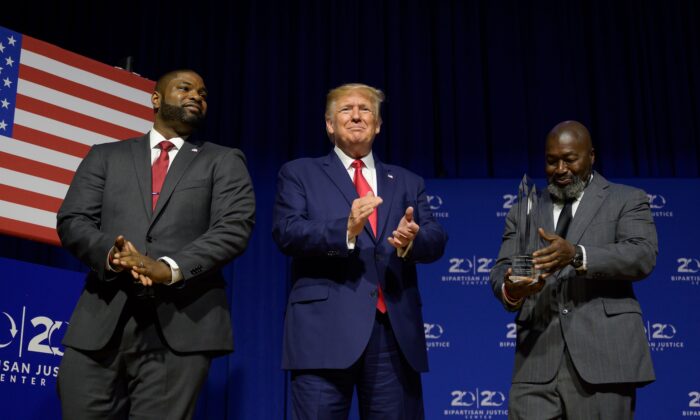 Via The Epoch Times:
Republican President Donald Trump was awarded the Bipartisan Justice Award on Oct. 25 for his work on the First Step Act.
Trump thanked lawmakers from both sides who worked with him on the legislation, which he signed late last year, and specifically thanked Senators Lindsey Graham (R-S.C.), Tim Scott (R-S.C.), and South Carolina Sen. Gerald Malloy, a Democrat.
"Last year we brought the whole country together to achieve a truly momentous milestone. They said it couldn't be done," Trump told the crowd at the 2019 Second Step Presidential Justice Forum at Benedict College in South Carolina, where he received the award and met with people released after the act was passed.
"We assembled a historic coalition. We had them so liberal you wouldn't believe it, we had them so conservative you wouldn't believe it."
Trump said he plans future efforts on the criminal justice reform front.
"We call it the First Step Act. I like the idea of calling it criminal justice reform. But this allows a second step and a third act," he said.
Trump introduced several people to the crowd who benefited from the act, including Alice Johnson, who had been serving a life sentence for cocaine trafficking, and Tenesha Bannister, who served 16 years of a 23-year sentence for possession of drugs with intent to distribute.
Trump said hearing stories he thought displayed injustice motivated him to pursue reform in the criminal justice system.
"We rolled back the provisions of the 1994 Clinton crime law, which disproportionately harmed the African American community," he said, prompting cheers.
————————–
The president's remarkably successful efforts to improve minority communities is currently being reflected in polling data that has him receiving historic support that likely has his Democrat counterparts fearing a 2020 Trump landslide as increasingly inevitable:
---