The shady dealings in Ukraine go far beyond the Biden family's most recent alleged illegal money grab. No, that troubled country and its long and sordid history of corruption have been a favorite cash cow of the globalist elites for decades and President Trump is among the very few in Washington D.C. who appears determined to get to the bottom of it.
Read on to learn more.
Via Real Clear Investigations:
The impeachment inquiry Democrats launched last month may ultimately hinge on a simple question: Did President Trump try to force a foreign power (or powers) to help him take down a political opponent, Joe Biden?
But the backdrop of their effort is far more complex and convoluted, connected not just to Trump's phone call with the president of Ukraine and related evidence but the three-year war of attrition the Democrats have waged against the president. Their main instrument was the Trump-Russia collusion story that roiled the capital until Special Counsel Robert Mueller pronounced it unfounded. Now they have moved on to one or more "whistleblower" complaints from within the intelligence community.
Given all the focus on nefarious Russia, you could be forgiven for missing the fact that Ukraine was always at the center of the Trump-Russia affair.
Viewed in this light, the Trump-Ukraine quid pro quo bribery narrative must compete with another explanation: Trump's determination to get to the bottom of an underhanded years-long campaign arrayed against him. One of the first things he did after the Mueller report debunked the collusion narrative was to call the Ukranian president and ask him to help do just that. (Again, the far-left media has willfully ignored this fact. President Trump is well within his rights and duties as POTUS to try and weed out corruption involving U.S. interests even if those interests involved high-ranking U.S. officials / Democrats)
The impeachment battle is not just about congressional probes and alleged presidential strong-arming, but about the Russiagate narrative. Anti-Trump forces in the government and media are working to vindicate their previous efforts and discredit a forthcoming Justice Department inquiry into the origins of Russiagate by again connecting Trump and a foreign power to a U.S. election. (Bingo!)
I've covered the Trump-Russia story for three years. Even before these operations emerged publicly after Trump's 2016 victory, I doubted the pre-election whisper campaign circulating throughout the Washington press corps that held Trump was clandestinely cooperating with Moscow.
First, the idea that Trump had for many years been a Russian ally, even an agent, was hard to believe given that there had been no mention of this during a long career lived entirely in the spotlight. I was especially skeptical of this claim because Trump's business concerns were based largely in the most media-saturated city in the world, and because they involved industries – especially real estate and casinos – that attract the attention of legal authorities.
Second, candidate Trump's proposed policies toward Russia were similar to those of the Obama administration – and would prove tougher after he was elected – making it hard to see how he was secretly beholden to Moscow.
I was not surprised when the special counsel concluded the story was false. Neither was it surprising, given the amount of money, time, and prestige spent on pushing collusion, to see Russiagate rebooted two weeks ago in the form of a whistleblower's complaint.
So far the basic facts are these: An active, and unnamed, CIA officer alleged that Trump had sought information from Ukrainian President Volodymyr Zelensky regarding Biden's involvement in a Ukrainian prosecution possibly involving his son Hunter. In exchange for information that, according to the CIA officer, would assist Trump's 2020 re-election, the president would release military aid to Ukraine.
Although the details are different – no mention this time of hookers and golden showers – the whistleblower's central claim closely resembles the thesis laid out in the anti-Trump dossier compiled by the former British intelligence officer Christopher Steele, which the FBI used as its roadmap to collusion: That Trump took or solicited dirt on his Democratic opponent from a foreign power in exchange for favors to that country's government.
Once again, much of the media seem to be treating every allegation against Trump as probable fact, while dismissing any questions and concerns as conspiracy theories. (This is a very important observation. Remember, a former Ukranian prosecutor swore under oath that he was fired from his position in order to halt the investigation he was overseeing into the Biden family's dealings in Ukraine. None of these whistleblower complaints have come close to a sworn testimony yet the media focuses on them while ignoring the other.)
Although the whistleblower complaint seems to have emerged quickly, it must be viewed in the context of the long war against Trump and its numerous elements tied to Ukraine.
Recent interviews with senior sources on Capitol Hill and newly acquired documents show that Ukraine was and continues to be central to the effort to take down Trump. (Have you heard of this in the far-left media? No. Why not? Because it favors Trump and implicates Democrats.)
That's why Trump's most urgent request of the Ukrainian president was to assist Attorney General William Barr in his investigation of the origins of the FBI's Trump-Russia probe.
"Our country has been through a lot," Trump told President Zelensky. "They say a lot of it started with Ukraine."
This assertion was not wrong. And yet for all of the foreigners, including Ukrainians, who played roles in Russiagate, this is a story about Americans with the sort of scruples, ambitions, and labyrinthine connections found in a Dostoevsky novel.
Origins of Clinton-Tied Ukraine Dirt-Digging
It is significant, in this time of separate left and right media echo chambers, that an early account of Hillary Clinton campaign efforts to dig up dirt on Team Trump using Ukraine didn't originate on the right: It was a Politico report by Kenneth P. Vogel and David Stern. (A repeat seems unlikely now: Vogel's current employer, the New York Times, has dismissed Trump's claims about Ukraine's role in Russiagate as part of a right-wing conspiracy theory.)
Ukraine's ambassador to Washington told Solomon that Chalupa wanted to approach a member of Congress to initiate hearings on Manafort or arrange for Ukrainian President Petro Poroshenko to comment on Manafort's alleged Kremlin ties during a visit to Washington.
Keep that in mind when Democrats and their media allies routinely suggest it is treasonous to seek foreign aid during an election.
…In April 2014, Biden traveled to Kyiv with a small economic aid package, and warned the Ukrainians to rein in corruption. A month later, his son Hunter was named to the board of Burisma, one of Ukraine's largest independent energy companies. Although he had no experience in the energy sector, Hunter was paid as much as $50,000 a month for his services.
Here's where the politics get even more interesting. Burisma's owner was not a reformer, but an ally of the just-exiled Yanukovych, having served as his minister of natural resources. Despite the Biden family's financial relationship with the Yanukovych circle, Clinton operatives painted Manafort's association with Yanukovych as evidence of the Trump campaign's pro-Putin sentiments.
In a three-day period at the end of April 2016, for instance, Slate, the Washington Post and Guardian all published articles alleging that Manafort's work for Yanukovych showed the Trump team was close to Russia.
This is another reminder of the double-standard that has driven so much media coverage: the eagerness to buy Clinton's spin on Manafort and then connect Trump to it all while dismissing Biden's clear conflicts. (Because facts mean nothing to the far-left media. It's all about protecting their false narrative.)
Now, the Ukraine Chapter
But Ukraine's new starring role was still to come. The Intelligence Community's Inspector General relayed the newly disclosed "whistleblower" complaint from the CIA analyst to the Office of the Director of National Intelligence during a transitional period. Both DNI Dan Coats and Deputy Director Sue Gordon had just resigned when the whistleblower's complaint reached Acting DNI Joseph Maguire on Aug. 16, his first day on the job.
Previously, the ICIG's whistleblower's form required first-hand knowledge of the reported concern to file a complaint. The updated form, which was "revised after press inquiries" regarding the whistleblower's complaint, eliminated the requirement of first-hand knowledge. The CIA officer's complaint appears to provide only hearsay.
In September, House Intelligence Committee Chairman Adam Schiff issued a subpoena to Maguire to produce the complaint. Yet Schiff apparently already knew its contents. More than two weeks earlier, he'd written on Twitter, "Trump is withholding vital military aid to Ukraine, while his personal lawyer seeks help from the Ukraine government to investigate his political opponent." A New York Times story last week reported that Schiff was briefed by an aide on the substance of the whistleblower's complaint before it was filed with the ICIG.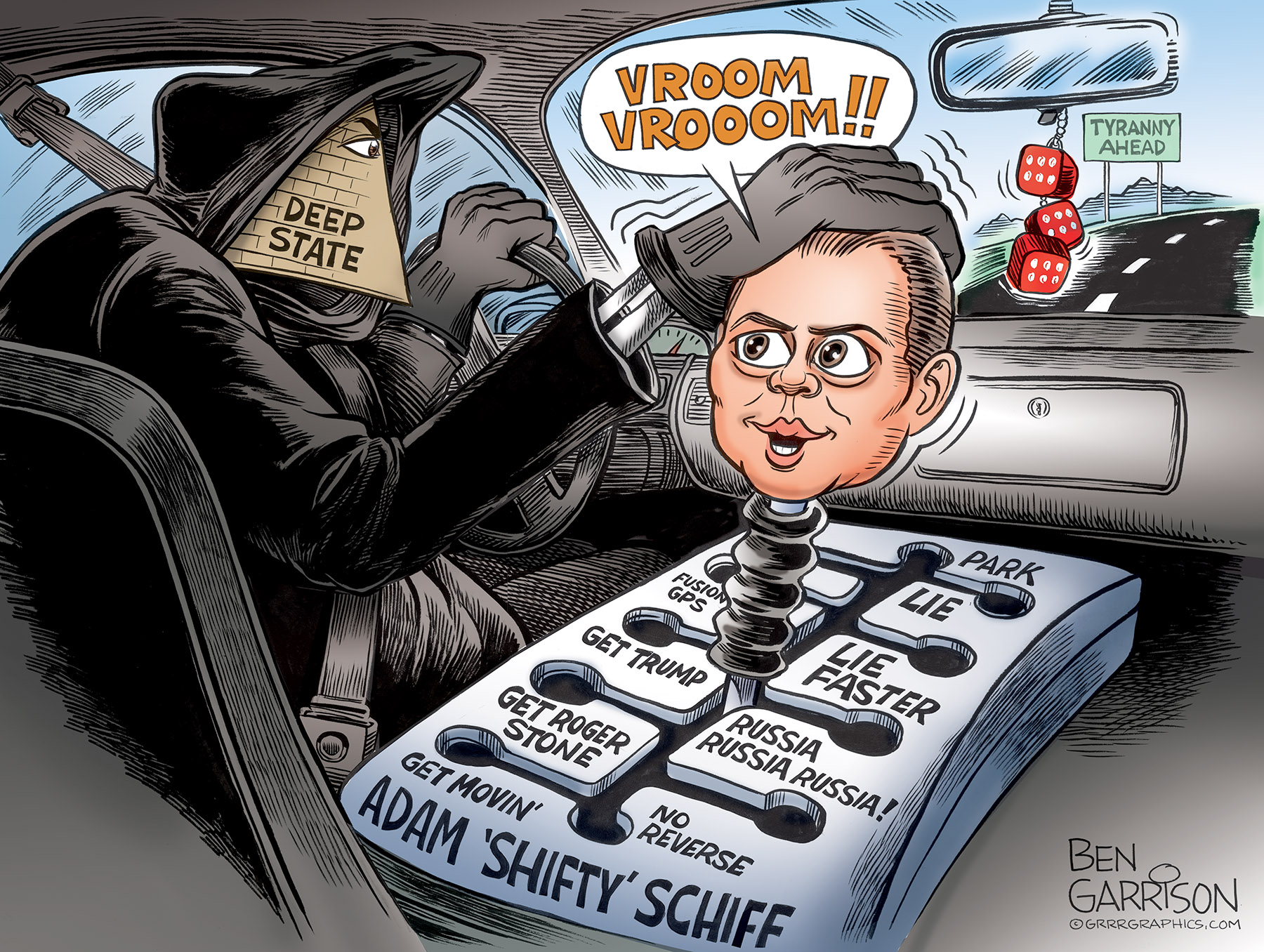 In driving the whistleblower chapter of the Russiagate operation, Schiff reprised the part he played in its earlier chapters. For nearly two years the California congressman filled the media with claims there was more than circumstantial evidence of collusion that would bring down the president. (It now appears Schiff was lying the whole time.)
On Sept. 13, ODNI's general counsel wrote Schiff and other leaders of the House and Senate intelligence committees that since the whistleblower's complaint did not deal with intelligence activities or the conduct a member of the intelligence community (i.e., the president is not a member of the IC), it did not find it a matter of urgent concern. (This is where the complaint should have ended. Instead, its contents were leaked to the Trump-hating far-left Washington Post to make certain it was given new life even though the earlier legal review found it to be largely without merit.)
Regardless, the subject matter, Trump's "promise" to a foreign official, was leaked for a Sept. 18 Washington Post story including the bylines of Greg Miller and Ellen Nakashima, two of the reporters who in February 2017 received a seminal leak in the Trump-Russia case, regarding a conversation between Trump's erstwhile national security adviser, Michael Flynn, and Russian Ambassador Sergey Kislyak.
The same political operatives and journalists appear throughout the anti-Trump operation, as do the same themes and even the same language.
The main charge in the whistleblower's complaint – that Trump solicited "interference from a foreign country in the 2020 election" – echoes the title of the Mueller report, "Investigation into Russian Interference in the 2016 Presidential Election." The whistleblower's thesis is identical to the dossier's: Trump sought dirt on a political rival regarding Ukraine-related issues on a quid pro quo basis. (Let that line sink in. The fake Trump-Russia dossier which was a Clinton campaign operation, was likely written by the same people who wrote up the whistleblower complaint. The enemies of the president failed with Trump-Russia so then moved quickly into a Trump-Ukraine scheme.)
…It was logical that Trump, and millions of other Americans, wanted to know the origins of the Russia probe and that the investigative work would be taken up by the Department of Justice. Since DoJ and FBI officials at the highest levels were implicated, it was natural that the attorney general himself would have a hand in the investigation.
Thus the panicked clamor coursing through the press at present is not about Joe Biden or his son or Trump's alleged commerce with foreign powers. Rather, it is the fear that the Russiagate bubble is likely to burst. And the fear that none of the reporters, intelligence officials, and political operatives responsible for pushing the largest and most destructive conspiracy theory in American history will escape the ruin.
(And there you have it, why Democrats and the media are now so clearly panicked in their push to foist yet another fake anti-Trump scandal upon us. Trump-Russia was an attempted coup against a duly elected president and they were all part of that attempt – Democrats, media, the Deep State. If true justice is to prevail, they would all be implicated and exposed and THAT is what they now fear the most so it's yet more layers of lies as they hope to once again bury the truth from the American people.
DON'T LET THEM.)
---