The extremist Iranian regime hasn't faced an American president with this kind of spine since the days of Ronald Reagan. President Trump is pushing the Iranian government to its breaking point via a combination of sanctions and geopolitical pressure that has the militant government barely hanging on.
So says Jack Keane, a retired 4-star general with decades of military experience.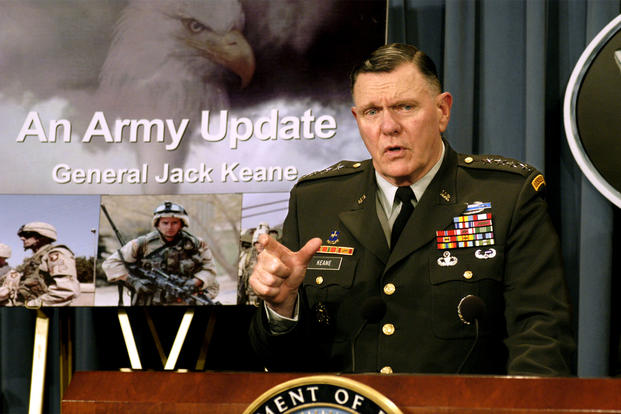 Via Fox News:
The Trump administration should not offer Iran any opportunities to negotiate after this weekend's assault on Saudi Arabia's oil installations, which was launched from Iranian soil, Fox News senior strategic analyst Gen. Jack Keane argued on Monday.
The retired four-star Army general said on "America's Newsroom" that Iran is lashing out in an attempt to force the U.S. to reduce crippling economic sanctions.
"I don't believe the Iranians are in any position to talk right now," said Keane, scoffing at the idea that U.S. and Iranian negotiators would meet at the upcoming U.N. General Assembly.
On Sunday, Secretary of Defense Mark Esper attended an emergency National Security Council meeting at the White House along with Vice President Pence, where military options were discussed, officials told Fox News. The officials said cruise missiles and drones used in the attack were launched from Iran.
Satellite photos released by the Trump administration show at least 17 impacts at two major Saudi oil installations – with what officials say was pinpoint accuracy – slashing Saudi Arabia's oil output by half.
Keane said the Trump administration has no reason to sit down with the Iranians given the current situation.
"The Iranians are gonna exhaust their playbook, I believe, before they come to the negotiating table. I don't believe we should continue to reach out to them in terms of offering them opportunities to talk," said Keane.
"Listen, we're holding all the cards here. The Iranians are back on their heels in a way they've never been before. Based on their actions, we can isolate them politically and economically and squeeze them even further. Obviously, our military option will be on the table," he added.
Fox News reported exclusively last week that tough sanctions imposed by the United States on Iran since President Trump's withdrawal from the nuclear deal last year have left pension funds throughout the country on the brink of collapse.
————————-
You would do well to re-read that last line. President Trump has masterfully brought the oppressively militant anti-freedom Iranian regime nearly to its knees without firing a single shot. Unlike his presidential predecessor, Barack Obama, who helped to prop up the anti-woman, anti-Christian, anti-homosexual, Iranian government, President Trump is for the first time in decades giving the Iranian people a chance at real freedom. Make no mistake, the Iranian mullahs are working very hard to try and see the president defeated in 2020 and replaced by a pro-Iranian regime Democrat. Hopefully, the American voters won't allow that to happen.
---